Shift moves to multi-car test drives, taking trade-ins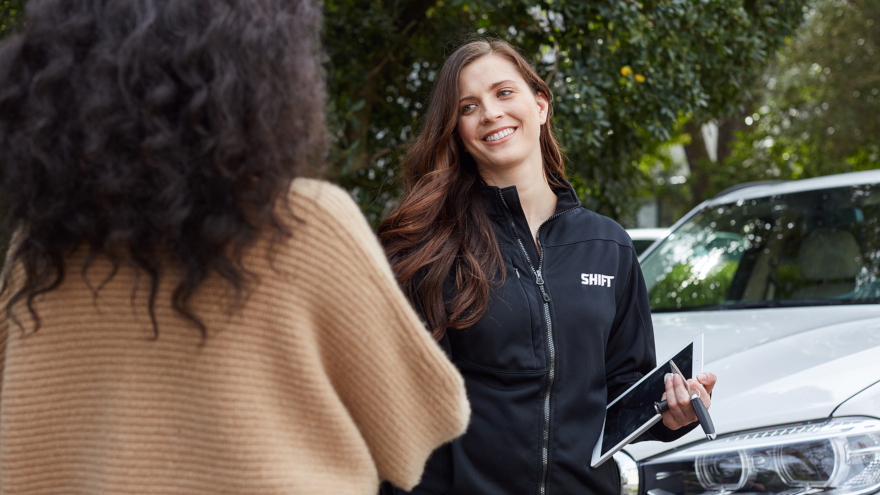 CARY, N.C. -
Consider these two models of automotive retail.
First: a pure online model, where the shopper selects a car online and buys it sight-unseen. The second and more traditional: A shopper goes to a physical store and selects from hundreds of vehicles on site.
Shift, an automotive ecommerce retailer, doesn't believe either end of that spectrum is the answer.
"We actually believe both of those models are flawed and dead," Shift co-chief executive officer Toby Russell said in a phone interview earlier this month.
"And our thesis is, look, let's work back from what users want. And that is, they want to be able to shop online, then narrow down and have confidence in the thing that they're interested in," Russell said. "But not everybody can go from hundreds of cars to the one, online. There's something to physically seeing and comparing a couple or three cars."
That's a big part of why Shift is introducing multi-car test driving: providing more choice. The company has also launched a trade-in platform (more on that later).
'Cross between concierge, Costco'
In the April 4 interview, Russell said Shift had launched multi-car test drives and was providing it as an option to about half of its shoppers as the company conducted A-B testing. Once that was complete, usually taking a few weeks, the plan was to launch with all shoppers.
Here is how it works: The shopper goes online and narrows down their vehicle choice to two or three cars. He or she schedules an appointment to have the vehicles delivered to a Shift "operating hub" for the test drives.
Russell describes the experience as "a cross between a concierge and Costco experience."
And it can be useful to get a sense of a vehicle with all five senses. Interacting with a car in person can give the shopper a better grip on questions he or she might have, Russell said. Things like fitting a car-seat, backseat capacity for carrying multiple passengers and vehicle visibility.
"And what we got in terms of user feedback was, on one hand, people love the online shopping — they want to be able to narrow down and look at what makes sense for them, online, on their own terms," Russell said.
"But a lot of folks also want to physically see more than one car. They certainly don't want to just buy a car sight-unseen online. And they do want to test-drive a car, but it might not just be one. They might want to test drive a couple or three."
This model Shift has found to be the "sweet spot" of what users want, Russell said.
'Consumer cars are best in nature'
In another extension of its model, Shift has launched a trade-in platform, which is now available.
"It really builds off our core value (proposition), which is, we are all about acquiring consumer cars and getting those consumer cars to other consumers. A person-to-person exchange is the core thesis. And the reason for that is, we believe those consumer cars are the best in nature," Russell said.
"The car that I want to drive is the one that Joe bought new, drove it for three to five years, did 10-12,000 miles a year, it has a lot of options on it, no accidents, one-owner," he said. "And it's now reasonably priced, because when it came off the lot new, it dropped in price, but it's still a really great car."
Those cars, Russell contends, are different than vehicles that might have been used in ride-hailing, car rental or a car that struggled to be purchased in the wholesale market.
"Our ethos has always been, let's get cars from people to people," he said. "That's always been in the founding mission of Shift — of keeping it simple and bringing cars from one person to another. And so, the trade-in is just a very natural extension of that."
Here's how the trade-in platform works:
There is a shopper who wants to buy a car through Shift.
Shift's goal is then to get the car that shopper is currently driving to another consumer.
It has a pricing algorithm, which enables the company to take a car's VIN and generate a guaranteed price immediately on that car.
So, in launching the trade-in product, Shift is taking the pricing algorithm that its sellers use on the sale side, and is using it to price the trade-in that a buyer has. The buyer can then use that towards the payment on his or her purchase.
Similar to the test-drive process, Shift sends a concierge — who has the vehicle the buying consumer is looking buy — to that buying consumer (who happens to have a trade-in)
If the consumer decides to buy that car, he or she begins to use Shift's iPad add to fill out information financing, warranty, etc., and setting up the transaction, Russell said.
As the consumer is doing that, the concierge begins inspecting the consumer's trade.
The mobile point-of-sale through Shift iPad app allows for trade and buying, making for one simultaneous transaction, he said. The consumer both sells his or her trade and buys the car on iPad app, all at same time.
Once the transaction is complete, the concierge takes the traded-in vehicle to the operational hub.
'Tangible' & 'intangible' perks of Lithia partnership
The interview with Russell also turned to Shift's partnership with the Lithia Motors dealership group, which began in September.
The seven months since then have brought benefits to Shift both "tangible" and "intangible," he said.
Starting with the tangible, partnering with Lithia gave Shift access to capital and floor planning right off the bat, Russell said. Plus, there is the recently announced data-sharing project between the companies.
Additionally, Shift has been able to utilize Lithia locations with excess storage capacity for both vehicle storage and reconditioning purposes, "so that we can really allow our software to scale lots of places without being blocked by the physical barrier of having to do real estate negotiations," Russell said.
In the intangible side, Shift has been able to glean automotive expertise from Lithia, both from a knowledge and talent perspective.
Part of that automotive expertise has been in regards to putting together offerings on financing and warranties, Russell said.
"Lithia has, at scale, negotiated and owned those products. And because they've got large-scale deals with a lot of providers, we're able to take advantage of those deals, even though we're a 'small startup,'" he said. "We can have a lot of the back-end deals and products that they would provide flow through our system and come onto our platform, as if we had enormous scale."
It would likely be difficult to get that kind of access otherwise, if they were a standalone startup, he said.
As far as utilizing Lithia locations for multi-car test drives, that is "right on the roadmap in terms of things that we would want to be able to offer, in as much as we're going to flex to enable users to get access to vehicles along the way," Russell said.
Explaining this in more detail, Shift's model is different than that of traditional retailers in that it's a "technology and logistics company," he said.
"We think of ourselves more like Amazon than Walmart. And so, what we view that as is, our goal is to be able to identify the location of a car and the location of an online shopper. And we will use all the means necessary to help the shopper get access to the vehicle that they need," Russell said.
"Whether it's stored at a Lithia location, a Shift location — and someday, ultimately, may be just right in the hands of the original owner of the car — our goal is to match those cars with the owners … we're working our way down a list of wherever the car may be, wherever the user may be, what is the best way that we can get the access to that thing."