SmartGroups & ARC roll out broad dealer training program, partner with 6 state associations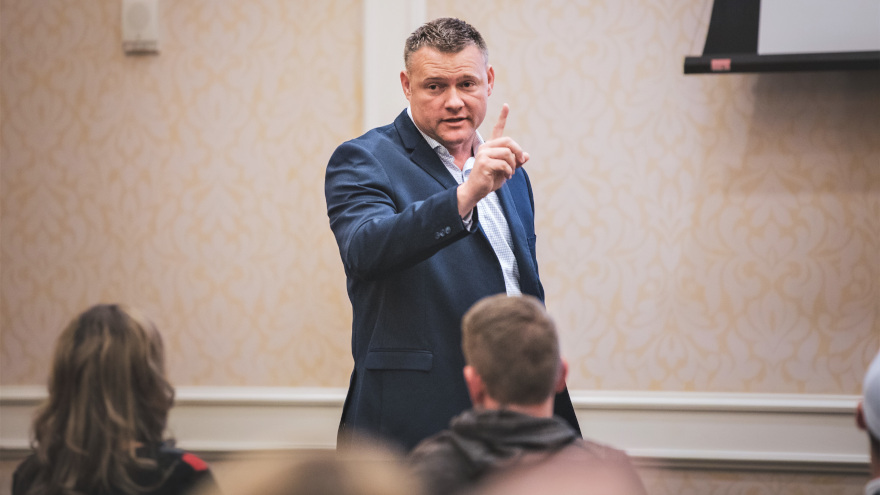 SmartGroups and Automotive Reinsurance Concepts founder and chief executive officer Justin Osburn started 2023 with two major announcements aimed directly at helping independent dealers, which are facing some significant headwinds based on Cox Automotive's latest research.
First, Automotive Reinsurance Concepts introduced Independent Dealer University, a subscription-based online education platform designed to put "next-level" training easily within reach of independent retail dealerships of all sizes.
Furthermore, six state independent dealers associations representing seven states have joined with SmartGroups in a partnership that includes picking up the tab for dealers' state IADA dues — and introduces a "groundbreaking" new way to put the advantages of 20 Group membership within reach of virtually every dealer.
The developments arrived on Tuesday after the fourth quarter Cox Automotive Dealer Sentiment Index (CADSI) indicated independent dealers now see profits as weak.
Automotive Reinsurance Concepts highlighted IDU is a comprehensive training program offering a full curriculum of on-demand interactive video lessons covering all areas of dealership operations — sales, F&I, accounting, fixed ops and more — taught by Osburn as well as national training director and renowned F&I guru "3K" Cory Collins.
The subscription includes unlimited access for unlimited users within the dealership as well as weekly live Zoom meetings with Osburn on sales and Collins on F&I.
Osburn, a former dealership owner, general manager and finance manager who served as lead instructor of NIADA's acclaimed Certified Master Dealer course, said IDU is a "game-changer."
"There is nothing like this available anywhere else," he said in the news release. "IDU is a comprehensive, battle-tested training program that empowers dealership owners and their staff with the technical skills and knowledge they need to achieve the results they've dreamed of.
"Our overriding passion for helping independent retail dealers has led to a program that gives every dealership, no matter how big or small, access to the absolute best education in the industry at a low cost and available anytime, anywhere," Osburn went on to say.
IDU's library includes hundreds of instructional videos and will continue expanding as an ever-growing training resource for every role in the dealership.
The classes are delivered through LightSpeedVT, the platform used by trainers and speakers such as Joe Verde, Grant Cardone and Tony Robbins. ARC said it's an advanced interactive training system available, allowing dealers to track, measure and monitor progress to ensure their staff members are engaging and learning.
Osburn said the platform's look and feel is designed to evoke a collegiate atmosphere — right down to its mascot, the Tuskers.
"This is higher education for dealers," Osburn said. "IDU is an elite university online that's affordable to all. The curriculum is so organized that it's surgical. This is something never seen before in this industry in the depth and breadth of the education offered."
For more information or to purchase a subscription, visit idutuskers.com.
6 associations partner with SmartGroups
Meanwhile, SmartGroups has partnered with six state independent dealer associations
As part of the partnership, SmartGroups: 20 Groups Reimagined will pay the annual state association dues for any dealer from a participating state who joins a SmartGroups 20 Group, whether the dealer is a current member of the association or not. That applies to any dealers from the participating states who are already members of a SmartGroup.
The joint venture with Alabama IADA, Carolinas IADA, Colorado IADA, Michigan IADA, Missouri IADA and Ohio IADA includes education and training opportunities for the associations' member dealers.
OIADA executive director Wendy Rinehart, who was named Association Executive of the Year for 2022 by the National Independent Automobile Dealers Association, called the partnership "a very exciting opportunity for OIADA."
"We're always looking for ways to increase membership and bring additional value to our association's dealer members," said Rinehart, a past chair of NIADA's Association Executives Council, "and this partnership is a way for us to accomplish both of those goals."
The partnership creates an innovative new concept in 20 Groups, designed to be cost-effective and far more accessible to smaller operations than traditional 20 Groups.
SmartGroups Lite are state-specific 20 Groups featuring meetings held in the dealers' home state with an accelerated two-day schedule, minimizing the time spent away from the dealership and the costs of travel and accommodations.
Members of SmartGroups Lite will still have the benefit of the industry's best moderators/consultants and best meeting content, topics and speakers, but in less time and at lower cost.
"We're excited to launch a very first in 20 Groups," Osburn said. "Low prorates, no air travel necessary, all dealers from within the state. Thanks to these state associations, this is literally the most affordable 20 Group program ever offered to independent retail dealers."
Lite 20 Groups will be available in every state in which the IADA is partnered with SmartGroups, and SmartGroups will pay the state IADA dues for all members of the Lite Groups in participating states.
For more information or to join a group, visit smart20groups.com, click on the SmartGroups Lite tab and select your state from the dropdown menu.
If your state IADA isn't partnered with SmartGroups and you're interested in joining a SmartGroups Lite, contact your state association's executive director or email SmartGroups director Howard Bullock at howard@arcdealers.com.