Spiffy expands services into EV charging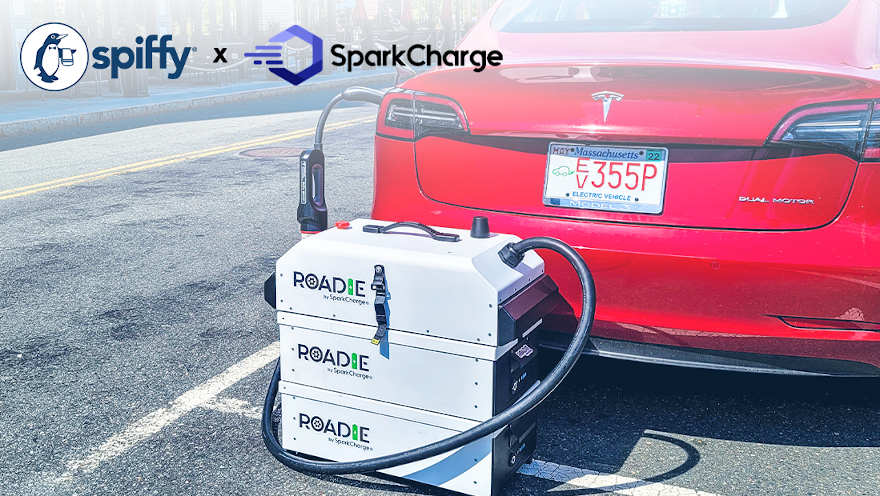 RESEARCH TRIANGLE PARK, N.C. -
Spiffy has added yet another arrow to its quiver.
Just two weeks after announcing partnerships to help with vehicle lifecycle needs like trade-in valuations, insurance and warranty/repairs, the company has lined up another collaboration; this time aiming to solve a pain point in the electric-vehicle space.
Spiffy said Tuesday it has teamed up with SparkCharge to provide on-demand charging for EVs, through the latter's Roadie portable charging system.
Spiffy users will be able to tap into this on-demand charging through SparkCharge's BoostEV app or through the Spiffy app.
The company is piloting on-demand charging in the North Carolina markets of Raleigh and Charlotte, as well as the Atlanta area.
"We are always looking for partners in our mission to disrupt the automotive industry. The SparkCharge team is addressing a huge barrier to EV adoption through modular portable charging, and we are thrilled to be on that journey with them," Spiffy chief executive Scot Wingo said in a news release.
"There's a clear connection between our delivery of car care when and where you want it and the Roadie promise of EV charging where and when you need it," Wingo said.
A lack of charging infrastructure is a roadblock to greater EV adoption, Spiffy contends, and this partnership aims to address that through portable charging.
"Removing the hurdles of owning and driving an electric vehicle is fundamental to SparkCharge. We want to accelerate the adoption of electric vehicles on a global scale to create a cleaner, healthier, safer, and more sustainable world," said SparkCharge CEO Josh Aviv, in a news release. "We are excited to welcome Spiffy into the BoostEV network and partner with them to deliver on-demand charging."
In terms of how it might look for the end consumer, "think of it as a 'top-off service" and not a full charge, Wingo said via email. The technology is not at a point to completely charge a vehicle, but using it would give the vehicle between 30 and 60 more miles of range, he said.
On the consumer side, some potential applications might be in office parks as a testing ground of sorts, during roadside assistance and for EV owners who are driving between charging stations and in a Spiffy market, Wingo said.
"On the fleet side, we actually think that's the real meat-and-potatoes here," Wingo said. "Also, the economics are such it can be more of a full-charge thing versus top-off."
Spiffy has been approached about several commercial uses of on-demand EV charging technology, which Wingo said "pushed us over the hump to go ahead and launch."
He then shared a few examples.
For instance, if a used-car dealership or an auto auction has an EV arrive on the lot and doesn't have the means to charge the vehicle, the car could run out of juice and require towing.
Another example involves shared mobility, where an operator might want to charge the vehicle "in place" instead of taking them somewhere to be charged, Wingo said.
There are also tentacles of opportunity in the rental car space, he said, as those rental companies begin to "dabble" in EVs and offer those vehicles at airport locations.
Wingo said Spiffy's program "can give rental car (companies) a 'ramp up' into this by being a plan B for locations that have no infrastructure and don't want to invest in it until it comes to their city in a bigger way."
After the airport locations have EV charging infrastructure, the satellite locations of rental car companies will need remote charging, too, he said.
This potential growth opportunity continues an evolution at Spiffy.
It began as a mobile car wash and detailing service, but has since expanded to cover other aspects of car care, like oil changes, tire replacement and vehicle disinfection.
Earlier this month, the company announced a trio of partnerships and a third-party marketplace that address the needs of vehicle ownership to an even deeper degree — and beyond vehicle care and maintenance
Through its Complete Car Care program, Spiffy has lined up partnerships with Carvana, Gabi and Uproar.car to help consumers handle the vehicle lifecycle needs involving trade-in valuation, insurance and warranty/repairs, respectively.