Spiffy, provider of Fleet Management as a Service, expands into tire business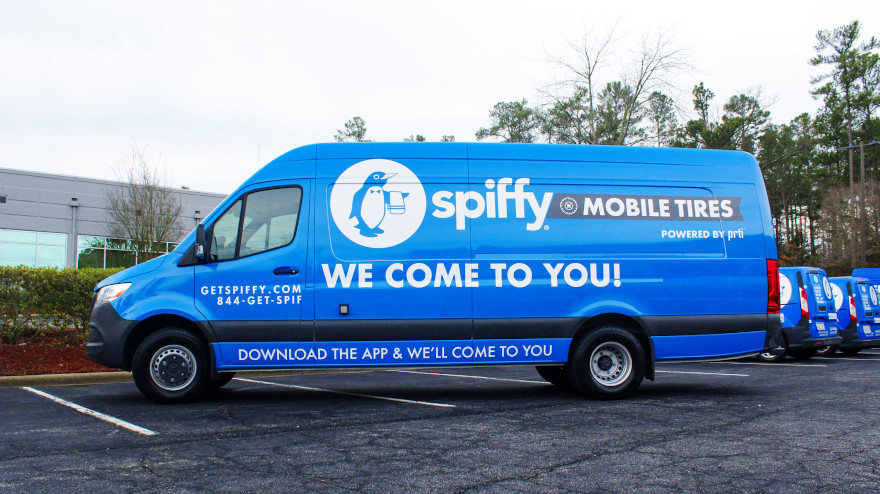 MORRISVILLE, N.C. -
Spiffy chief executive officer and co-founder Scot Wingo was speaking at an ecommerce event on Thursday, and along with sharing in-depth analysis on automotive technology, he discussed the genesis of his company and the direction it is headed.
Wingo told the crowd at AutoCommerce 2020, an event in Morrisville, N.C., hosted by ChannelAdvisor (another company Wingo co-founded): "The general idea (of Spiffy) is, can we provide that level of convenience that consumers know and love from apps like Uber — can we do that in the car care world?"
Spiffy took another step towards that goal with Thursday's announcement.
The company, which provides on-demand, mobile car care as well as Fleet Management as a Service (FMaaS), has entered the mobile tire service segment.
Spiffy said it is now providing on-demand, eco-friendly tire installation and recycling to consumers as part of a pilot in its home market (the Raleigh-Durham area of North Carolina). It is also providing this service to fleets in all of its 20 markets. (Spiffy's goal is to eventually be in 50 markets, Wingo said during Thursday's presentation).
"Spiffy started by improving the car wash and detailing customer experience, before branching out into maintenance services with the introduction of oil change in 2017," Wingo said in a news release about the tire service launch
"After talking to both individual and fleet customers, the top request was for mobile tire services, including purchasing and installation," he said. "Today we're servicing over 1,000 vehicles per day, and by our estimates, 5-10% of those vehicles have tires with low treads. That's a significant safety issue that we can help solve."
Fleets will be able to tap into mobile and fixed-site tire installations through Spiffy Tires, which will include tires from such brands as Michelin, Continental and BF Goodrich.
"Beyond offering Spiffy Tires to fleets, we're excited by the opportunity to provide additional car care services to our customers in office parks and residences," Wingo said in the release. "We look forward to introducing individual tire sales and installation, starting with a pilot program in Raleigh-Durham."
On the consumer side, Wingo explained in an email, the shopper buys the tire(s) from Spiffy through the company's app.
Spiffy brings a mobile van with the necessary tire installation equipment to the customer's home or office to install the new tire(s).
On the fleet side, he said, customers can choose to use fixed-site installation, mobile installation or a blend. As far as buying the actual tires, smaller fleets often purchase from Spiffy, whereas larger fleets often have existing relationships with tire suppliers and Spiffy provides the installation/service.
Then there's the recycling of old tires from vheicles it services. The company utilizes what it calls a "Spiffy Green" approach, focusing on eco-friendliness and sustainability.
As part of this, it has partnered with North Carolina-based PRTI, which has a patented PRTI Thermal Demanufacturing process. With that, Spiffy sends used tires to PRTI processing plants. Those plants then "demanufacture" those tires, breaking them down into carbon char, steel and oil, the company said.
"We're eager to be a green partner with Spiffy as they roll out their tire services across the country," PRTI president and CEO, Jason Williams said in a news release. "Properly demanufacturing tires not only generates a variety of valuable commodities but addresses the demand to offload waste across the tire manufacturing industry. Working directly with Spiffy gives us a local partner to confront the world's waste tire problem."
Wingo added, "Part of our DNA at Spiffy is to not only innovate around the customer experience of car care but the sustainability of our services as well. It began with reclaiming water from car washes and expanded to recycling 100% of the used oil from oil changes.
"Now, we believe partnering with PRTI provides the first eco-friendly solution to the tire industry. Marry that with a more convenient service experience and customers can enjoy the best of both worlds."
Thursday's move continues what has been fairly rapid year of growth.
In November, Spiffy announced the purchase of competitor Your Location Lubrication, a move that, along with Spiffy's organic expansion, broadened its Fleet Management as a Service offering to its current standing at 20 markets.
With the purchase, Spiffy added the high-volume oil change system, technicians and fleet of YLL
The acquisition of YLL, which is about the same size as Spiffy, essentially doubled the company's size, Wingo said at the time.
This purchase followed Spiffy's July acquisition of ongoing Dallas operations from NuWash. That acquisition gave Spiffy the ability to provide on-demand car washing, detailing, oil change and other automotive maintenance for the more than 200 office park and multi-unit residences previously serviced by NuWash.
Spiffy launched its Fleet Management-as-a-Service offering in June to help fleet managers maintain their units across the entire vehicle lifecycle.
Propelled by a fund raising of more than $10 million, Spiffy said at the time that it was expanding into six new markets with FMaaS and also rolling out FMaaS in existing Spiffy markets of Atlanta, Charlotte, Dallas, Los Angeles and Raleigh.
Those new FMaaS markets included Denver, New York, Phoenix, Seattle, Tampa, Fla., and Washington, D.C.
In the spring of 2019, Spiffy was among several on-demand car wash service providers to partner with Ford as part of a connected vehicle services program.
The Spiffy-Ford partnership gave owners and lessees of 2017 model-year or newer Ford/Lincoln vehicles the ability to utilize FordPass Connect and Lincoln Connect to unlock/lock their respective vehicles, meaning they wouldn't have to hand off and pickup keys from the Spiffy staff.
Spiffy also launched the Vehicle 2.0 podcast last year, which explores four pillars "for the digital future of the automotive industry." Those are connectivity, electrification, autonomy and ownership.
Wingo was among the speakers at Cherokee Media Group's Automotive Intelligence Summit in Raleigh last summer, discussing "The Future of Ownership in a Vehicle 2.0 World."