State Line AA to sell last Oldsmobile built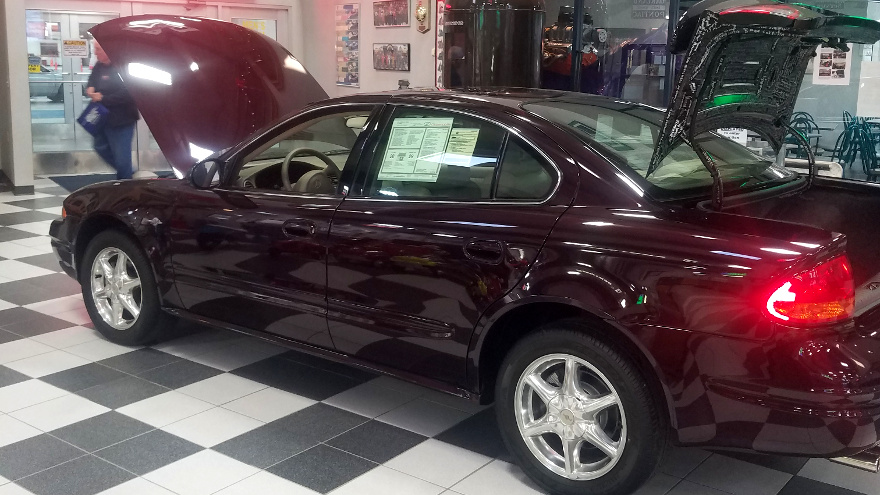 CARY, N.C. -
The last Oldsmobile ever built will go to the highest bidder today.
Over a decade after its debut at the Lansing Assembly Plant in April 2004, General Motors and General Motors Financial have decided to sell the vehicle, along with two other commemorative models after their stay at the GM Heritage Center.
"Every year a group of several interested employees including executives go over the Heritage collection inventory," GM Heritage Center manager Greg Wallace said in an email interview with Auto Remarketing. "The intent is to keep only the crown jewels and sell selected properties at auction. We then take the proceeds and improve our collection by acquiring historically significant properties we need."
GM has chosen State Line Auto Auction of Waverly, N.Y., to host the sale. It has been a company-sponsored auction since 1990.
Along with the last Oldsmobile — a dark cherry 2004 Oldsmobile Alero with only 29 miles, according to State Line owner Jeff Barber — the sale also features the last Oldsmobile Cutlass (a 1999 model) and a 1996 Oldsmobile Cierra.
Founded by the American car manufacturer Ransome Eli Olds, the Oldsmobile brand's last model was produced by GM from 1999 to 2004. Its 1901 to 1904 Curved Dash model was the first mass-produced car.
State Line said each of the three commemorative vehicles are scheduled to be offered at 12:00 p.m. (ET) in Lane 8/GM Financial Lane. Bidding is open to any dealer registered with State Line.
In addition to having extremely low mileage, all three vehicles have their original MSO statements of ownership. The 1999 Cutlass has just 107 miles, and the 1996 Ciera has 127 miles, said Barber of State Line.
Prior to its time at the GM Heritage Center, the last Oldsmobile was also on display at the R.E. Old Transportation Museum, according to a news release from State Line.
After rolling off the assembly line at the Lansing Assembly Plant in Lansing, Mich., the historic Alero was signed by the Oldsmobile the assembly line employees who built the car.
There were 500 commemorative editions of the Alero model built in 2004, Wallace said, including the last — No. 500.
Oldsmobile sold a few hundred commemorative editions of each of its models the same year, and GM currently has more than 100 historic Oldsmobiles in its collection spanning from 1896 to 2004, according to Wallace.