Study finds Napleton tops auto groups in responding to website customers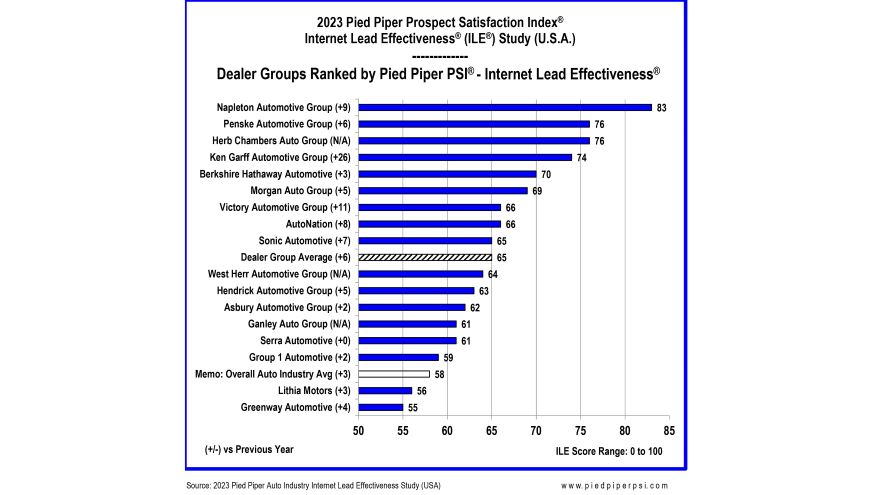 Napleton Auto Group ranked as the dealer group most responsive to Internet leads, according to research by Pied Piper.
The 2023 Pied Piper PSI Internet Lead Effectiveness Study showed Napleton at the top of the list for the second consecutive year, ahead of Penske Automotive Group and Herb Chambers Auto Group, which tied for second. Napleton's average score of 83 out of 100 was a nine-point improvement over the 2022 study.
The study of 17 national dealer groups measured responsiveness to Internet leads coming though dealership websites by submitted mystery-shopper customer inquiries through the individual websites of 1,614 dealerships, asking a specific question about a vehicle in inventory, and providing a customer name, email address and local telephone number.
Pied Piper then evaluated how the dealerships responded by email, telephone and text message over the next 24 hours. All dealerships of each dealer group were evaluated.
The study found 15 of the 17 dealer groups scored higher than the overall auto industry average score of 58 — only Lithia Motors and Greenway Automotive did not.
"This year the top performing dealer groups were three times more likely to personally respond to website customers within 30 minutes — compared to the typical auto dealer," Pied Piper CEO Fran O'Hagan said.
Ken Garff Automotive Group was the most improved group, raising its average score from 48 — which ranked last in 2022 — to 74, which placed fourth.
Pied Piper, which has conducted the study annually since 2011, said 20 quality and speed-of-response measurements are used to generate dealership ILE scores. Dealerships which score above 80 provide a quick and thorough personal response by email and phone, and often text, too, while dealerships below 40 fail to personally respond in any way to their website customers.
The 2023 study found 80% of Napleton's dealerships scored better than 80 with just 9% under 40. For the overall industry, Pied Piper said, 30% of dealerships scored more than 80 and 29% scored less than 40.
"The math is simple," O'Hagan said. "On average, dealerships that score over 80 sell 50% more vehicles to the same quantity of website customers compared to dealerships that score under 40."
The study's results showed:
Three groups – Napleton, Herb Chambers and Penske – emailed or texted an answer to a website customer's question within 30 minutes for than 70% of the time on average, while AutoNation, Lithia and Greenway did so just 40% of the time.
Napleton, Ken Garff and Berkshire Hathaway phoned website customers within 60 minutes more than 70% of the time, compared to less than 40% for Greenway and West Herr.
The groups that "Do Both Fast" – answering a customer's question by email or text, and also phoning the customer, all within 60 minutes – more than 50% of the time were Napleton, Herb Chambers and Ken Garff. West Herr, Greenway, AutoNation and Lithia did it less than 25%.