Top states & models in used hybrid/EV market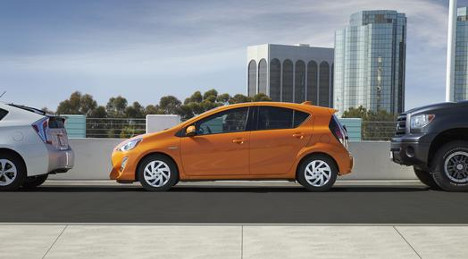 CARY, N.C. -
The year was 2001, and the state was Maryland.
The vehicle was a silver Honda Insight.
It was the first used hybrid ever sold by CarMax, according to the company.
Since then, CarMax said last month in this blog post, it has sold more than 100,000 used hybrids and electric vehicles, with choices of model in this segment growing rapidly.
All told, the company estimates there are close to 4.5 million hybrids/EVs in the overall U.S. vehicle population.
In light of this growth, CarMax shared the most popular used hybrids/EVs at its stores (based on 2016 sales) as well as the top 10 states for used hybrid/EV sales (based on percentage of hybrids/EVs to total CarMax sales last year).
Not surprisingly, the Toyota Prius was the top used hybrid/EV at CarMax, and California was the top state for sales.
The company said close to a fourth of its hybrid/EV sales last year (so, 23,000-plus) were in the Golden State.
But the interest in used hybrids and EVs goes far beyond California's borders. While the Pacific Northwest was well represented with three of the top 10 states (including No. 1 California and No. 2 Oregon), six of the top nine were Midwestern states.
In 10th was Kentucky, a Southern state.
The lists below shed some light on the proliferation of used hybrids/EVs throughout the country:
Top 10 States for Used-Hybrid Sales
(based on 2016 sales at CarMax stores)
1. California
2. Oregon
3. Iowa
4. Minnesota
5. Kansas
6. Washington
7. Indiana
8. Missouri
9. Wisconsin
10. Kentucky
In 2017, CarMax said its used hybrids are hot in these states: Arizona, California, Iowa, Michigan, Nebraska, Nevada, New Mexico, Oregon, Virginia and Washington
As for models, the top five are below:
Most Popular Used Hybrids/EVs at CarMax
(based on percentage of hybrids/EVs to total CarMax sales last year).
1. Toyota Prius
2. Ford C-Max
3. Ford Fusion
4. Lexus CT
5. Kia Optima
One-third go used
In a separate study in which it worked with CleanTechnica and surveyed that site's readers, CarMax found that most hybrid/EV owners lived in Pacific states. In fact, 26 percent of buyers surveyed lived in the states of California, Washington or Oregon.
The study, which was conducted in June, found that the Mid-Atlantic (Maryland, Delaware, Pennsylvania and Virginia) and the East North Central regions (Illinois, Indiana, Michigan, Ohio) were next on the list, respectively.
That survey also showed that a third of hybrid/EV drivers in the survey had purchased the car used.
Overall green car volume grows
In a similar analysis, but on the new-car side, Edmunds examined the sales of green vehicles, which it said includes hybrids, EVs, PHEVs and hydrogen-powered cars.
This group of vehicles had seen their sales dip for three straight years, but they climbed 21.5 percent in the first six months of the year, Edmunds said.
A major catalyst for this turnaround has been the more diverse offering that now includes more light trucks, the company said in an analysis. Since 2012, light trucks have seen their slice of the green-vehicle pie climb from 5.2 percent to 22.9 percent.
"If automakers want car shoppers to adopt green technology, they can't just offer it exclusively in a little econobox," Edmunds executive director of industry analysis Jessica Caldwell said in a news release. "While the styling of the iconic Prius used to be trendy, consumers today don't necessarily want a vehicle whose design screams 'green car.'
"And as tastes have taken a dramatic turn away from passenger cars, and battery technology improves, automakers have an opportunity to drive adoption forward by offering electric powertrains in vehicles shoppers actually want," she said.
Edmunds also noted the momentum in the plug-in segment of the green car market. Thought it is still a "marginal subset of overall sales," volume is up 45 percent this year.
Below is data from Edmunds on how new green cars were sold in the first half of each of the last six years.
2017: 266,488
2016: 219,342
2015: 242,104
2014: 288,861
2013: 294,989
2012: 230,056