Transport system seeks to become one-stop shop for communication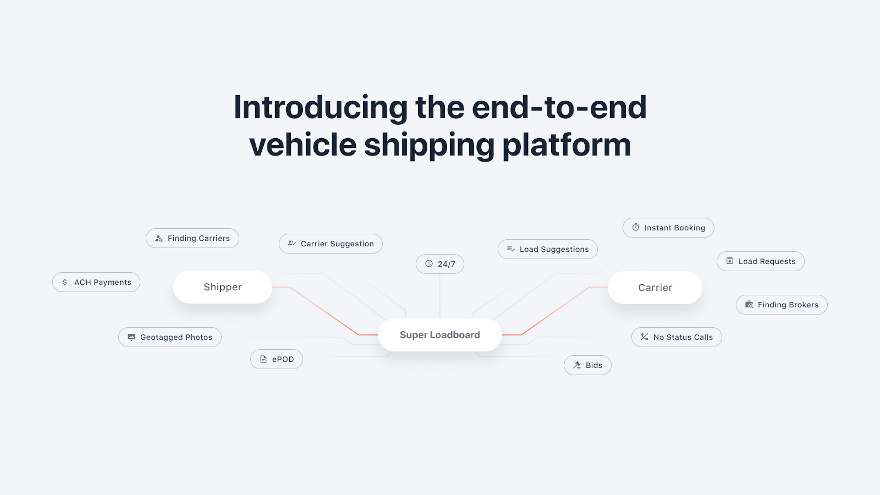 KANSAS CITY, Mo. -
Transportation management system company Super Dispatch says that with its new end-to-end car shipping platform, shippers, brokerages and carriers can connect and communicate "where other technologies have failed them."
Super Dispatch is aiming for its new platform to become a one-stop-shop for effective communication between car transport carriers, brokers and shippers.
With the new platform, the company says that shippers and carriers will be able to post, price, offer, accept, track, inspect, invoice and pay for loads. And they will be able to do that all in one place.
In releasing the platform, Super Dispatch notes that the auto transport industry over the past decade has expanded, and demand for car shipping has increased. But transportation management technologies have unfortunately not caught up to the speed and accuracy required of carriers and shippers.
Super Dispatch says that comparable products have historically served as in-house software products for auto transport's largest companies.
Included in the new platform are the existing Carrier TMS, a connected Shipper TMS and a smart load board.
The company said that as the marketplace grows, through the use of various industry-specific technologies, millions of cars are found, assigned, inspected, and delivered.
Super Dispatch said that many management systems exist for shippers, brokers and carriers, but their communication with other technologies is often inadequate.
With Super Dispatch's end-to-end platform, all auto transport companies will be able to run their businesses internally and experience more direct communication with each other.
"We are creating a better way to transport cars with new technology that solves major problems for companies in auto transport," Super Dispatch chief executive officer Bek Adullayev said in a news release.