TrueCar debuts Pre-Owned Value Awards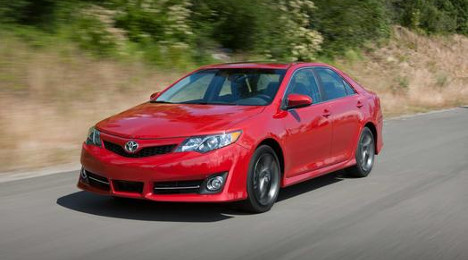 SANTA MONICA, Calif. -
TrueCar has launched what it says is the first industry award to recognize pre-owned cars that hold their value the best after three years of ownership.
In an exclusive with Auto Remarketing, the company shared the winners of the inaugural TrueCar Pre-Owned Value Awards, powered by ALG.
TrueCar will present the awards to automakers this week at the New York International Auto Show.
The company is recognizing two overall brand honorees (mainstream and premium) and 27 segment winners, as listed below. These are the 2014 model-year vehicles projected to retain the highest percentage of their current value over the next three years, TrueCar said.
POVA Overall Brand
Mainstream: Toyota
Premium: Infiniti
POVA Segment Model
Alt-Fuel: Toyota Prius c
Compact: Toyota Corolla
Compact Utility: Hyundai Tucson
Full-size: Nissan Maxima
Full-size Commercial: Mercedes Sprinter
Full-size Pickup: Ford F-150
Full-size Utility: Toyota Sequoia
Microcar: Chevrolet Spark
Midsize: Toyota Camry
Midsize Commercial: Ford Transit Connect
Midsize Pickup: Toyota Tacoma
Midsize Utility 2nd Row Seating: Ford Edge
Midsize Utility 3rd Row Seating: Kia Sorento
Minivan: Nissan Quest
Off-Road Utility: Toyota FJ Cruiser
Premium Compact: MINI Cooper Hardtop
Premium Compact Utility: BMW X3
Premium Executive: Hyundai Equus
Premium Full-size: Hyundai Genesis
Premium Full-size Utility: Toyota Land Cruiser
Premium Midsize: Volvo S60
Premium Midsize Utility 2nd Row Seating: Mercedes M Class
Premium Midsize Utility 3rd Row Seating: Infiniti QX60
Premium Performance: Nissan GT-R
Sportscar: Dodge Challenger
Subcompact: Mazda Mazda2
Subcompact Utility: MINI Cooper Countryman
"The range of high-quality products re-entering the market as pre-owned vehicles grows ever more impressive year by year as automakers are paying more attention to small details that help preserve the resale value of a vehicle," Jim Nguyen, TrueCar executive vice president and general manager of ALG, said in a news release.
"This award is designed to identify used vehicles that will hold the highest percentage of their value over the next three years," he said. "For potential used-car buyers, unlocking value is an important part of the purchase consideration, and as certified pre-owned programs expand, consumers will benefit from the improved quality and reliability offered as a result of these refinements."
TrueCar said the strong CPO program at Infiniti, which includes transferable warranty coverage, help nudge it above other premium brands. On the mainstream side, Toyota was by the far the biggest highlight, taking seven segment awards and the overall mainstream brand honors.
Earning three segment wins apiece were Ford and Hyundai.
TrueCar said it closely analyzes used-vehicle performance, brand outlook and product competitiveness to determine the award winners. In order to be eligible to win the brand award, automakers must have model entries in four or more different segments.
In its news release, TrueCar adds: "To account for differences across trim levels, model averages are weighted based on percentage share relative to the entire model line."
Background & process behind POVA
Auto Remarketing caught up with Eric Lyman by phone on Friday to discuss the awards. Lyman is vice president of industry insights for TrueCar and ALG.
If you think about the process behind determining the ALG's Residual Value Awards on the new-car side, the process to determine the Pre-Owned Value Award is "basically identical," he said, except that it's for 2-year-old vehicles and is based on expected retention of current used-car value.
Here's how it works: TrueCar takes the current used value of 2-year-old vehicles (so, model-year 2014 units) and gauges how much of that value they will retain over the next three years – i.e., how much of that current value will they have left in 2019.
Lyman said TrueCar picked 2-year-old cars as a starting point because 2014 is "the model that is most representative of vehicles sold in manufacturer CPO programs in 2016."
When the idea of a pre-owned value award came up, Lyman said, the TrueCar team was excited.
Consider the used-car shopper: here you have consumers that, largely, are already value-oriented, he said.
"The value proposition is very strong in their mind," Lyman said.
And this award aligns with that, as it shows which of the 2-year-old cars are going to hold their value the best and represent the "best return on investment."
The awards tackle two trends in the market, Lyman said. On the consumer-facing side, TrueCar is aiming to give shoppers "more direction" when it comes to pre-owned.
Then from the industry side, TrueCar is looking at the strategies automakers are using to deal with increases in used supply, including certified pre-owned, which Lyman said "will be more important than ever."
He went on to explain correlation between CPO strength and new-car transaction prices. Certified pre-owned supports brand perception and used-car values, which can in turn drive new-car transaction prices.