Typically robust March new sales might give way to rising used turns later in 2018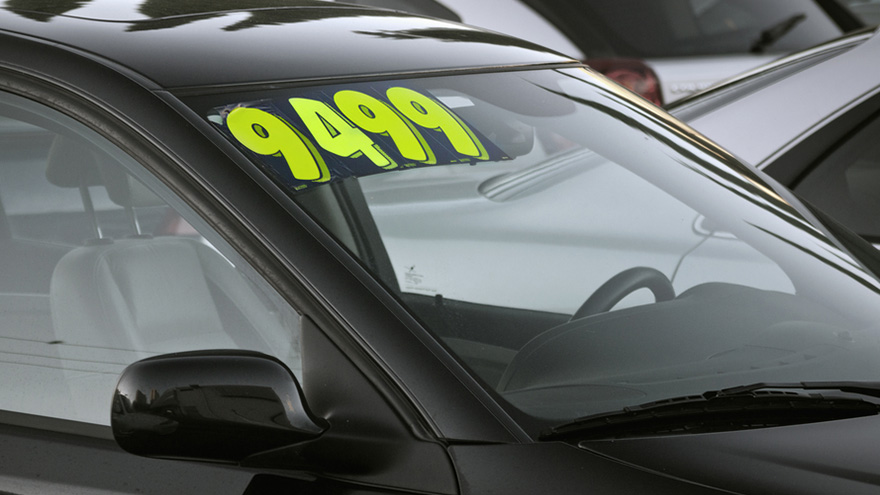 CARY, N.C. -
Three leading automotive analysis outlets are projecting a typical bump in new-vehicle sales usually seen in March. But at least one expert is seeing the potential softening new-model retail sales being a propellant for used-vehicle turns, which already are expected to improve in March.
Edmunds estimated 3.7 million used vehicles will be sold in March; a figure that could produce a seasonally adjusted annual rate (SAAR) of 39.3 million. That projection is up from 3.5 million — or a SAAR of 39.1 million — Edmunds recorded in February.
Edmunds also predicted that 1,597,256 new cars and trucks will be sold in the U.S. in March for an estimated SAAR of 16.9 million. This expectation reflects a 23.2-percent increase in sales from February and a 3.0 percent increase from March of last year.
Edmunds estimated that the retail SAAR will come in at 13.3 million vehicles in March 2018, with fleet transactions accounting for 21.4 percent of total sales.
"Healthy first-quarter numbers indicate the industry is on solid ground, but that doesn't mean we can expect another banner year for new car sales," said Jessica Caldwell, Edmunds executive director of industry analysis. "Though March tends to be a prognosticator for the year as a whole, if automakers remain disciplined with incentives and further rein in spending, we could potentially see sales start to tumble in the high-volume summer months when shoppers aren't seeing the deals they are looking for."
When asked separately by Auto Remarketing about what might happen to the used market if that summertime prediction comes to fruition, Caldwell offered this assessment.
"Used vehicles will likely grow in popularity as new-car substitutes if incentives continue to stagnate and interest rates creep up," she said. "A large quantity of near-new used vehicles are expected to come into the market that will undoubtedly offer a compelling value message that resonates with discerning new-car shoppers."
Cox Automotive analysis
New-vehicle sales are expected to rise year-over-year to 1.59 million units in March, resulting in an estimated 16.7 million SAAR, according to a forecast released by Cox Automotive.
"March is the year's first month that traditionally delivers high volumes, and this March is no exception, with sales expected to increase nearly 300,000 units over February and more than 400,000 units above January," said Charlie Chesbrough, senior economist at Cox Automotive.
Chesbrough pointed out that March new-model sales are expected to be up over year-ago levels, although with 28 selling days versus 27 last year, some increase was expected.
"The record for March was set in 2000 when sales reached 1.66 million, or a 17.8 million SAAR. It's highly unlikely that sales will exceed that level this year, particularly since the market pace has been slowing gradually since the record year in 2016," Chesbrough added.
Cox Automotive mentioned four other key highlights with its estimated March sales forecast, including:
— In March, new light-vehicle sales, including fleet, are expected to reach 1.59 million units, up 2.6 percent, or 40,000 units, compared to March 2017 and up over 22 percent from last month.
— The SAAR in March 2018 is estimated to be 16.7 million, down from 17 million in February 2018 and equal to the March 2017 pace.
— Fleet sales are expected to account for 22 percent of market sales in March, a similar level to last year.
— After a strong year of 17.1 million units in 2017, a top five all-time finish, Cox Automotive expects 2018 sales to fall 400,000 units and finish near 16.7 million.
Overall, the Cox Automotive Industry Insights team is looking at a number of factors creating headwinds for new-vehicle sales.
First analysts pointed out the Federal Reserve interest rate, which were raised again this past week, are starting to have an effect on the economy; auto loan rates have risen to levels not seen since 2013.
Additionally, while consumer confidence remains very high, Cox Automotive acknowledged recent volatility on Wall Street and political uncertainty in Washington, D.C., have likely negatively impacted vehicle buyer's confidence.
Perhaps most importantly in Cox Automotive's estimation, as a result of aggressive leasing strategies in recent years, there are millions of "gently-used" off-lease vehicles available that provide growing competition for the new-vehicle market; similar to the assertion made by Caldwell at Edmunds.
Still, Cox Automotive insisted buying conditions remain very strong, with high consumer confidence and low unemployment. Gradual interest rate increases have been expected and should not cause a large decline in overall market demand. Recent tax reform will add additional support to the vehicle market in 2018.
These factors are supporting Cox Automotive's 2018 new-vehicle sales forecast of 16.7 million.
"There are some interesting underlying factors that will impact this month's sales numbers," Chesbrough said. "Recent history suggests March is the year's peak month for the cars-to-trucks sales ratio.
"Although car share has been falling quickly, there is some reprieve expected," he continued. "Asian OEMs follow a fiscal calendar which ends in March. Aggressive sales strategies, as well as recent large volume car launches, should lift some foreign cars more than domestics."
Rebecca Lindland, executive analyst for Kelley Blue Book, added her perspective, as well.
"We will be watching the pickup truck segment carefully in March, as the new full-size RAM pickup has gone on sale while the new Chevrolet truck has not," Lindland said. "There is strong brand loyalty in this segment and lots of interest in new product, so it will be telling to see how Chevy manages the transition to the new truck.
"Also, we know Ford is using aggressive incentives to defend their leadership position," she went on to say.
Analysis from J.D. Power and LMC Automotive
Like the analysts from Edmunds and Cox Automotive, the forecast developed jointly by J.D. Power and LMC Automotive also highlighted how the new vehicle retail sales pace in March is expected to rise from year-ago levels.
J.D. Power and LMC Automotive pegged the new-vehicle SAAR for retail sales to be 13.4 million units, up 200,000 from a year ago. The firms added retail sales are projected to reach 1,275,000 units, a 0.2-percent increase on a selling day adjusted basis compared with March of last year.
"Despite the disruption from inclement weather on the East Coast, the industry is expected to post year-over-year retail sales gains for the first time in 2018," said Thomas King, senior vice president of the data and analytics division at J.D. Power.
"While this breaks a streak of three consecutive months of decline, the industry is boosted by a quirk in the calendar due to an additional selling weekend," King continued, while adding that on a national basis, retail sales through the first three weeks of March are up 0.5 percent from last year, but in the Northeast, sales are down 0.5 percent over the same period.
J.D. Power and LMC Automotive pointed out that average incentive spending, however, continues to rise and month-to-date is $3,849, up $74 versus the same period last year. Spending on trucks and SUVs (up $160) is driving the increase while spending on cars is down $54.
The firms highlighted six other metrics from their forecast, including:
— The average new-vehicle retail transaction price month-to-date is $32,129, a record for March, surpassing the previous high of $31,391 set in March 2017.
— Consumers are on pace to spend $41 billion on new vehicles in March, more than $2 billion greater than last year's level.
— Incentives as a percentage of MSRP are at 10.3 percent so far in March, exceeding the 10 percent level for 20th time in the past 21 months.
— Trucks account for 66 percent of new-vehicle retail sales through March 18 — the highest level ever for the month of March — making it the 21st consecutive month above 60 percent.
— Days to turn, the average number of days a new vehicle sits on a dealer lot before being sold to a retail customer, is 70 through March 18, which is flat versus last year.
—Fleet sales are expected to total 335,300 units in March, down 1.2 percent from March 2017. Fleet volume is expected to account for 21 percent of total light-vehicle sales, which would be flat versus last year.
"Auto sales remain on track for the expected marginal decrease on the retail side of demand for the year," said Jeff Schuster, senior vice president of forecasting at LMC Automotive. "The shift from cars to SUVs is expected to be more pronounced as we forecast SUVs to pick up 2.5 percentage points of share to 45 percent.
"Risk remains concentrated on NAFTA negotiations and tariffs, though optimism of a NAFTA deal is growing," Schuster continued. "Interest rates are rising as expected and we are looking for a total of four rate hikes in 2018, a headwind making borrowing more expensive and raising monthly payments."
LMC's forecast for 2018 total light-vehicle sales is just under 17.0 million units, a decrease of 1.3 percent from 2017. The retail light-vehicle forecast remains at 13.8 million units, a decline of 1.6 percent from 2017.