Unbalanced Used Growth Has Lithia's Attention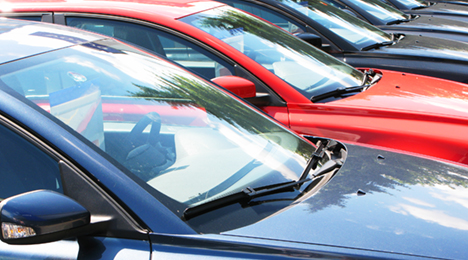 MEDFORD, Ore. -
Lithia Motors generated a used-vehicle same-store retail sales increase of 13 percent during the third quarter, fueled in part by a 17-percent climb in the turns of certified pre-owned units. The CPO performance has the attention of Lithia leadership, but not necessarily for the reason industry observers might first expect.
See, Lithia reported that sales of what it calls value auto units — vehicles with more than 80,000 miles — increased just 5 percent.
And sales for what it calls core units — second-generation vehicles that often arrive at company stores through trade and are 3 to 7 years old — edged up only 3 percent.
Lithia president and chief executive officer Bryan DeBoer explained his concerns to investment analysts when the company reported its Q3 performance, which included a 7.7-percent softening in used-vehicle gross profit to $2,479.
"What really is happening is there is a loosening in that late-model product, which means the availability," DeBoer said. "When it's easy to get those vehicles and it's easy to buy them, what happens is you start to use up dollars on certified or late-model conquest rather than core product or even value auto.
"When supply loosens and I think what we'll see it as it begins to mellow out a little bit, it will be a little easier for stores to go back and find the correct core product, and we should see that start to grow again at a more typical rate," he continued.
Lithia retailed 2,214 more used units in Q3, topping 17,000 vehicles company wide. That averaged out to be 55 units per store, still below Lithia's goal of 75 used-vehicle sales per dealership.
Along with perhaps leaning too heavily on CPO performance, DeBoer described the inventory challenges Lithia experienced during the third quarter, which closed with company stores having a 55-day supply in inventory.
"Stores that had some issues in regards to inventory levels and then sold through it," he said. "We're obviously on our toes and most of our stores ready to respond as need be.
"Long term, I really believe that when you look at used vehicles, there is a very fine line between having the right cars and the wrong cars. Meaning when you're trying to expand your used car retail unit sales, you try things," he continued.
DeBoer's comments returned to what he called a "sucker's bet."
He said, "when you have a glut of trade-ins come off of new-vehicle sales, or they become more available on the used-vehicle wholesale auction areas, it's easy to take the path of least resistance and buy newer cars, later-model conquest cars that are really — let's call it a sucker's bet.
"It's easy to buy. It looks good. It's going to go through the shop easy, so on and so on," DeBoer went on to say. "But those are cars that quickly are damaged when the market weakens, and they are pretty readily available at competitors. There is still some training there in some of the stores."
Later in the call, DeBoer revisited what he means by Lithia's core used product and what it will take to get that part of the company's used business back up again.
"What really relaxed in terms of supply was the ability to find 1- to 3-year-old vehicles. And again, those conquest vehicles that aren't what you sell new are the easiest cars to find. Well, we're trying to push the expansion of conquest vehicles, but it's more in the 3- to 8-year-old vehicles, which didn't loosen up in supply," DeBoer said.
"I think that the combination is, we bought a lot of higher dollar cars of off-brand and then you have the competitive pressures of selling against a certified car that may have incentives on financing or extended warranties that are included in the price or most importantly and knowledgeable salespeople that you're competing against on selling those products," he continued.
"Ultimately you increase your average cost per unit, but you don't make any more money doing it and I think that's what you're seeing," DeBoer went on to say. "That's not typical though in all of our stores. It's when those stores haven't been through that experience of learning to expand their business with the right cars. And like I said, it's a very fine line between a 3-year-old vehicle and a 5-year-old vehicle and what the equipment is on that car, the colors of that car, the mileage or something like that to find the right price inflection point between a new car and now a used car."
Top-Line Performance
In other developments in the company's latest performance, Lithia reported the highest third quarter adjusted net income in company history and an increase in adjusted net income from continuing operations of 18 percent above the prior-year period.
Lithia's Q3 adjusted net income from continuing operations came in at $34.9 million, or $1.32 per diluted share. A year earlier, the company generated $29.6 million, or $1.13 per diluted share.
Unadjusted net income from continuing operations in Q3 was $34.5 million, or $1.31 per diluted share, compared to $30.9 million or $1.18 per diluted share, a year earlier.
Officials pointed out Q3 adjusted results from continuing operations exclude a $0.01 per share expense related to non-core acquisition expenses for the purchase of DCH Auto Group offset by a non-core benefit resulting from a tax attribute.
The company's third-quarter revenue increased $228 million, or 21 percent, to $1.3 billion, up from $1.1 billion in the prior-year period.
Other quarterly performance highlights included:
— Total same-store sales increased 12 percent
— New-vehicle same-store sales increased 11 percent
— Service, body and parts same-store sales increased 13 percent
— Same store F&I per unit increased $97 to $1,202
— Adjusted SG&A expense as a percentage of gross profit was 66.1 percent
Update on DCH Integration
Lithia completed its purchase of DCH Auto Group on Oct. 1. DeBoer indicated the DCH stores are estimated to generate approximately $2.3 billion in annualized revenue.
The transaction was funded by approximately $364 million in cash, the issuance of 268,770 shares of Lithia Class A common stock, incurring $230 million of vehicle floorplan debt financing and the assumption of non-floor plan debt of $53 million.
"The transition on Oct. 1 was very smooth," DeBoer said. "We spent really the last 120 days preparing for that transition. It's a combination of two organizations. However, we really believe that our opportunity is to build upon their success and continue to expand their market share and their offerings to their consumers. So all in all, very smooth transition."
One Wall Street observer asked Lithia leadership of its concerns about entering the Northeast after Group 1 Automotive discussed the high costs of doing business in that region and its subsequent disposal of a couple of stores.
"I don't believe there is any intent to dispose of any stores," DeBoer said. "I think when you look at the New Jersey market or southern New York market, it's obviously highly competitive. We're very fortunate that the DCH brand that they built in New Jersey, New York has high customer belief and adhesion to the dealerships, the products that they sell, Honda being the No. 1 product in the Tri-State area
"Their stores are top stores within that area and their personnel have been there a long time," he continued. "I think it's also important to restate that in the DCH transaction, their real estate and their locations, being in good locations, solid locations, typically on interstates or expressways and are 75 percent-plus of their facilities are owned, much like what Lithia is, which adds for stability of location without having to be transient to some extent in those locations."
Lithia chief financial officer Chris Holzshu reiterated the due diligence the company utilized before entering into the transaction.
"Just like we do on the Lithia side, we go through each store and we evaluate each store individually," Holzshu said. "We look at the opportunities in each location and make sure that the return that we're going to get out of each store is sufficient.
"And we're very excited about the opportunities in each one of the DCH locations," he went on to say.