Vehicle Acquisition Network rolls out 2 robust training resources for dealers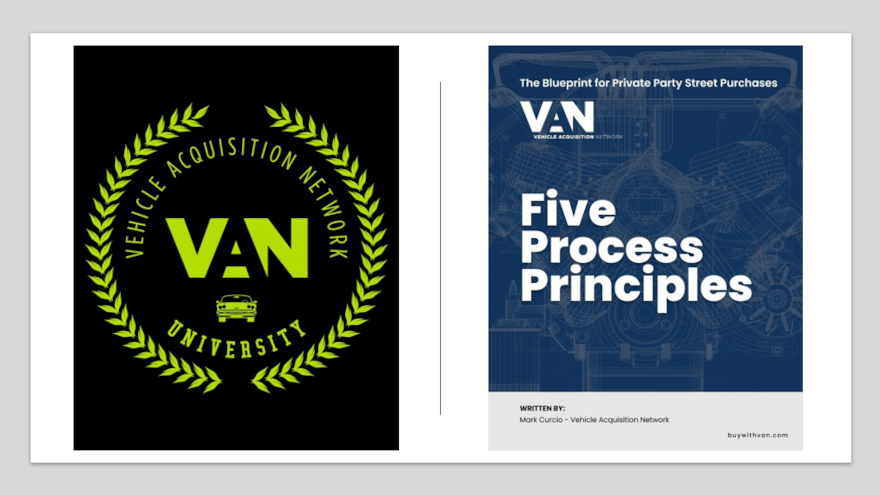 Vehicle Acquisition Network (VAN) opened the month by releasing a new eBook focused on five process principles for completing private-party purchases based on extensive dealer feedback.
And then this week, VAN, which connects dealers to more than 18 private-party platforms, introduced a new learning resource center called VAN University that's within the VAN ENGAGE platform to provide partners with 24/7 access to training resources.
VAN highlighted the eBook includes five practical process principles that can give dealerships a significant edge. From boosting their customer experience to increased revenue, there are many strategic advantages to implementing these helpful guidelines, which result in greater success for dealerships.
VAN sales development manager Jen Poudrier said she has a wealth of expertise on the importance of having well-equipped resources to empower dealers from her previous role in a dealership as a market sales coordinator.
"In the world of used vehicle acquisition, knowledge is everything. That's why we've resources like the most recent eBook to give our clients the tools to succeed in a highly competitive market," Poudrier said in a news release.
The eBook can be found on via this website.
"This invaluable resource can help dealerships achieve greater vehicle acquisitions, customer satisfaction and revenue growth by implementing key principles designed to optimize the private-party seller experience," VAN chief operating officer Mark Curcio.
Meanwhile, the company said VAN University will be available to all customers through the VAN ENGAGE platform and offer various features to make learning easier and more accessible. These features include:
—Easy-to-use interface: The learning resource center will feature a user-friendly interface, ensuring easy navigation and enabling users to access the relevant information promptly. Such an intuitive interface will save users' time and enhance the learning process's efficiency.
—Wide range of training topics: The resource center will offer a wide range of training topics that help to improve a user's overall efficiency and effectiveness.
—Accessible on multiple devices: The resource center will be accessible via various devices, such as smartphones, tablets and laptops, enabling users to access training materials at their convenience, regardless of location.
"VAN is constantly striving to bring best-in-class tools, technology and training that will enable our dealership partners to become more productive, efficient and profitable," Curcio said in another news release. "VAN University represents a wider company project to standardize and streamline our training resources, helping dealers obtain a return on their investment faster with VAN."
The company went on to say that the introduction of VAN's new learning resource center is a significant step forward for partners, enabling them to access a variety of training topics without having to navigate to a separate application or location, ultimately improving their performance and productivity.
"VAN University is a resource that will allow our dealer partners to train at their disposal, whether it be after working hours or during their weekend at home," said Emily Gehrke, VAN's training and development manager. "We hope that this resource center will enable dealers to use our already user-friendly platform more effectively, freeing up their focus to achieve their ultimate objective of purchasing cars."