Vincentric Debuts Best CPO Value in America Awards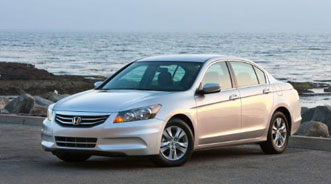 BINGHAM FARMS, Mich. -
The inaugural Vincentric Best CPO Value in America awards are being announced today, recognizing 36 models for offering top value in their respective segments as well as three brand winners.
Those three — Best CPO Value: Passenger Cars, Best CPO Value: Luxury Brand, and Best CPO Value: Trucks — are given to the makes that took the most awards for that particular segment. As such, the Best Brand Value in America awards go to:
Best CPO Value – Passenger Cars: Honda
Best CPO Value – Luxury Brand: Lexus
Best CPO Value – Trucks: GMC
The individual segment awards are based on estimates of which particular vehicle in the category provides the most value for the money spent, explained Vincentric president David Wurster.
"In general, things like the CPO price, the residual value, maintenance costs and all those things that we measure for new vehicles, really become even more important with older vehicles," Wurster told Auto Remarketing. "As it relates to CPO, when you add in things like the CPO warranty and how much that improves a vehicle's repair cost situation, that's where you start to see the benefits from the CPO programs.
"So, none of these (winning) brands are too surprising, because you look at Honda and Lexus, and they've traditionally both had a strong residual value or depreciation story. Both are well-regarded for high quality … and both do well as new vehicles," Wurster added.
"GMC, that's also an interesting one, because, particularly when you compare it with Chevrolet or Ford or Dodge, we're really looking at the value story here, as opposed to just low cost," he continued.
Wurster emphasized that Vincentric isn't simply finding the vehicles with the lowest cost; its goal is to "pick the vehicles that provide the most value."
"And GMC, kind of being a premium brand for the pick-up truck market, actually ends up winning our award over some other guys," he noted.
"It's the same eight cost items that we analyze for new," Wurster said, referring to depreciation, fuel, insurance, financing, repairs, fees and taxes, opportunity costs, and maintenance. "When you start to get into used vehicles, maintenance, repairs, depreciation; they just become more and more important."
Detailing how it arrived at the list of winners, Vincentric offered this explanation, as part of a fact sheet on the awards, which can be downloaded here.
The complete list of segment winners is as follows:
Passenger Cars
Honda Insight — Subcompact Hatchback
Hyundai Accent — Subcompact Sedan
Kia Forte Koup — Compact Coupe
BMW 3-Series — Premium Compact Coupe
Toyota Prius — Compact Hatchback
Chevrolet Cruze — Compact Sedan
Lexus IS 250 — Premium Compact Sedan
Honda Accord — Mid-Size Coupe
Infiniti G37 — Premium Mid-Size Coupe
Toyota Camry — Mid-Size Sedan
Lincoln MKZ Hybrid — Mid-Size Sedan, Hybrid
Buick Regal — Premium Mid-Size Sedan
Honda Accord Crosstour — Large Sedan
Buick LaCrosse — Premium Large Sedan
Mini Cooper — Convertible
Lexus IS 250 — Premium Convertible
Mitsubishi Eclipse — Sport
Volkswagen Jetta — Wagon
Volvo V50 — Premium Wagon
Utility Vehicles, Crossovers and Vans
Honda CR-V — Entry Level Compact Crossover
Volvo XC60 — Premium Compact Crossover
Toyota Venza — Mid-Size Crossover
Lexus RX 450h — Premium Mid-Size Crossover
Mazda CX-9 — Large Crossover
Lincoln MKT — Premium Large Crossover
Nissan Xterra — Compact SUV
Nissan Pathfinder — Mid-Size SUV
Land Rover LR4 — Premium Mid-Size SUV
Nissan Armada — Large SUV
Infiniti QX56 — Premium Large SUV
Volkswagen Routan — Minivan
Chevrolet Express G1500 — Full Size Passenger Van
Pickup Trucks
Toyota Tacoma — Compact Pickup
GMC/Chevrolet Sierra 1500/Silverado 1500 — Full Size 1/2 Ton Pickup
Chevrolet Silverado 2500 — Full Size 3/4 Ton Heavy Duty Pickup
GMC Sierra 3500 — Full Size 1 Ton Heavy Duty Pickup
Moving along, Wurster also touched on the impact that CPO program enhancements have had on the value of the vehicles.
"Over the last couple of years, we've seen some of the manufacturers extend the warranties and that would have a direct impact on repair costs as we measure them. Manufacturers that have free maintenance programs that are transferrable into the used vehicle, as long as it's in the mileage constraints; those too would help the CPO situation, the value story," he noted. "So, those are the kinds of things that really affect the numbers quite a bit."
But, another interesting point Wurster brings up is that "the underlying cost of owning and operating a vehicle is based on that vehicle."
The quality of the vehicle itself plays a huge role in determining the value.
"So, if you've got a really great new vehicle, you may also have a really great CPO vehicle, as time goes on. It isn't just the CPO program that makes these vehicles good values; the CPO program is what makes them a better value than what they might already be," Wurster shard. "It's really important you start off with a quality product."
Continue the conversation with Auto Remarketing on both LinkedIn and Twitter.