Webb Believes Some Wholesale Volume Patterns Will Persist; Manheim Releases Enhanced Mobile Site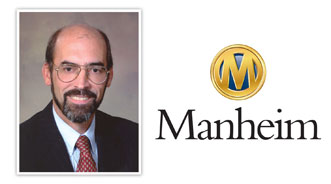 ATLANTA -
As Manheim's Tom Webb explained this week in discussing the impact that significant inventory reductions have had in the wholesale market, dealers these days no longer simply rely on heading to their local auction on sale day to find used units.
Instead, they often have to employ numerous wholesale avenues to acquire used vehicles, including the online arena.
And in response to what Manheim calculates to be more than 85,000 customers utilizing the company's online services for their wholesale needs each week, Manheim has upgraded its mobile website, giving dealers more advanced tools in finding the vehicles they need.
To aid on-the-go wholesale buyers, Manheim added a slew of new features, including:
—Bid and Buy: This lets dealers use their mobile devices to buy now, place a bid or auto-bid on any OVE.com unit. They can then go through the same steps as they would for other OVE.com purchases to complete the transaction.
—Make an Offer: Buyers can use this component to "make an offer" and suggest a value for designated Buy Now vehicles on OVE.com. This can be done with any smartphone or mobile device with Web capabilities.
—Manheim Simulcast Proxy Bidding: This lets buyers use the mobile website to place proxy bids on Manheim Simulcast listing. To access the Manheim's Simulcast proxy list, they can go to the mobile website's homepage.
—My Buying Activity: Customers can go to the mobile site and directly access this tool, which lets them monitor recent OVE.com Buying Activity. It includes units with live bids, on offer, won and lost.
"These new features open an entirely new set of opportunities for our buyers," explained Amy Mills, senior director of product management for Manheim Digital.
"Customers can now be in the lanes bidding on one vehicle and on their phones placing proxy bids on another vehicle at the same time," Mills added. "We are excited to offer dealers the opportunity to buy anytime, anywhere. We want to help them avoid having to wait until they're at their desk or in the lanes to purchase that must-have vehicle."
The site also allows customer to view any available report with the vehicle, including Carfax, AutoCheck, seller disclosure and condition reports. Navigation through the site has also been improved, officials indicated.
Webb Delves into Wholesale Conditions

Continuing on, Webb examined various wholesale trends in further detail, while also sharing the movement that the latest Manheim Used Vehicle Used Value Index made.
During a conference call on Monday, Webb emphasized numerous conditions currently found throughout the wholesale market are probably here to stay — especially in terms of dealer consignment and off-rental volume.
Early in the call, Manheim's economist first looked at off-rental volume while also getting a bit nostalgic about the steep decline in program cars. Webb recollected how during the "heyday" for program cars, dealers could find about 1.2 million of these units flowing through the wholesale channel annually.
Now, Webb figures about 400,000 program units might end up in the wholesale market.
Meanwhile, as off-rental units command some of the highest prices the industry has ever seen, Webb mentioned how the average mileage of these vehicles has climbed from about 25,000 or less to near 40,000,while fleet size has remained relatively steady for close to 10 years.
Webb also said the average auction price for a rental risk unit declined slightly in June but remained above the $14,000 mark.
"Simply put, the availability of current model-year vehicles with 25,000 miles or less on them in the wholesale market has been greatly reduced," Webb told analysts and other call participants that included Auto Remarketing.
"Has there been a reduction in the demand for these kinds of units? No," he responded. "I would say quite the opposite due to the success of CPO program. The demand has actually increased.
"It's not much wonder why the price of off-rental vehicles is high," Webb went on to say. "I would mark this down as a permanent shift. We are not going back to the days of old."
Webb then turned his attention to dealer consignment, emphasizing how franchise stores are adjusting their wholesale strategies.
"All franchise dealers are tremendously focused on their used-vehicle operations. They're tremendously dependent on them," Webb acknowledged.
"You couple that with lack of availability in the wholesale channel — or at least a lack in the availability of units they traditionally liked to buy, late-model as opposed to older ones — now they're holding onto vehicles they've gotten through trades they normally would have just wholesaled," Webb explained.
If new-vehicle sales gain even more momentum, are franchise dealers going to abandon the notion of holding onto that 6-year-old unit?
"I don't think they shift back to their previous patterns," Webb surmised. "The reason is they've found out there's a very good profit opportunity. So they'll continue this practice.
"Dealers will tell you now, the days of filling their lots by going to their local auction on sale day are over," Webb continued. "You can't do that anymore. They know that. They actively search for inventory in all of the auction channels.
"Also, dealers have always trolled their service lanes to look for used vehicles, but now it's become just the logical thing to do," he added. "It might seem like a new idea, but management consultants were telling (franchise dealers) to do this 30 years ago. The need has created better business practices."
One additional wholesale segment Webb touched on was off-lease units.
The Manheim economist pointed out that lease originations have picked up since bottoming out at about 1.1 million in 2009. Webb projects that originations should continue on an upward track, heading above 2.5 million annually by 2015.
However, Webb made two points about how leasing activity might not swell wholesale inventory soon; the first reason being that many new lease terms are in excess of 40 months.
"It is also quite reasonable to assume that a growing share of these units will be bought by the grounding dealer. That helps that particular dealer in their inventory acquisition problem, but it does little to the overall tightness of the market," Webb said.
Manheim Index Declines Slightly in June

Continuing on with his presentation, Webb highlighted that wholesale used-vehicle prices — on a mix-, mileage-, and seasonally adjusted basis — decreased modestly in June from their record level in May.
Manheim calculated wholesale used-vehicle values before the seasonal adjustment fell 1.6 percent. After the seasonal adjustment, they declined 0.2 percent.
As a result, the Manheim Used Vehicle Value Index in June settled at 127.5, which still represented a 6.1-percent increase from its year-ago level.
"A further rise in new-vehicle transaction prices — and the underlying falloff in both inventories and incentives — has kept used vehicle values at lofty levels," Webb explained.
"Although inventories, incentives, and (one hopes) sales will pick up from their lows in May and June, used-vehicle valuations will likely remain strong by historical standards," he continued.
"Despite the pullback in gasoline prices, compact and midsize cars continued to be the strongest segments in the market," he went on to say. "Indeed, they are now the only two major segments that have meaningful year-over-year gains."
Manheim discovered compact car prices climbed 19.7 percent year-over-year in June, while midsize car prices pushed 13.5 percent higher.
As Webb mentioned, only two other vehicle segments moved higher last month. Manheim determined luxury cars ticked up 2.1 percent, while vans edged 0.2 percent higher.
"As noted, compact and midsize cars are the only two segments with meaningful gains over the past year," Webb stated.
"Over the past quarter, only compact cars fit that description," he continued. "Although compact cars have accounted for a growing share of new-vehicle sales in recent years, their share of auction volume has declined slightly in recent months. This is a reflection of the inventory shortage on the new-vehicle side, which keeps used units out of the wholesale market.
The two other vehicle segments that Manheim tracks moved lower last month. While trucks softened by just 1.3 percent year-over-year, Webb pointed out that SUVs slipped 7.0 percent.
Japanese Supply Effect & U.S. Employment Trends

During a question-and-answer session, Webb responded to queries on how Japan's recovery is going from March's natural disasters, and a report by the U.S. Labor Department stating the nation added only 18,000 jobs last month as the unemployment rate ticked up to 9.2 percent.
When discussing the manufacturing disruption in Japan, Webb began, "We wouldn't have shown the wholesale price increases in April and May that we did. Without it, we would have shown bigger decline in June," he continued. "It appears the worst of that tightening has passed or at least the OEMs have better clarity on when supplies will be replenished. You can sell an empty shelf if you're confident when supplies will be replenished."
When circling back to points he made about U.S. employment, Webb didn't mince words.
"Certainly Friday's employment report was very sobering. In fact, there's no other way to describe it other than shockingly horrible," Webb declared.
"The only way I see you having a significant falloff in used-vehicle wholesale values is if you have tremendous demand destruction," he continued. "On the employment side — unless it rectifies itself — that could be one of those factors that could do that.
"I'm still optimistic that we will show faster growth in the second half of this year than we showed in the first. Although I'm certainly less confident of that following Friday's report," Webb concluded.
Staff Writer Joe Overby contributed to this report.