Which Vehicle Brands Are Retaining the Most Customers?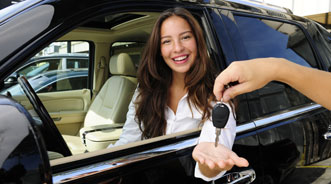 WESTLAKE VILLAGE, Calif. -
By many accounts, new-vehicle sales are unlikely to bounce back to pre-recession numbers in the near future. Therefore, while retaining customers has always been vital, if possible, this plays an even larger role in today's marketplace as automakers strive to eke out the highest sales totals possible. J.D. Power and Associates recently set out to find out which automakers are most successful.
The two vehicle brands topping its list for retaining the most customers are Ford and Honda, J.D. Power reported Thursday when releasing its 2010 Customer Retention Study.
Ford and Honda both have a customer retention rate of 62 percent. Next on J.D. Power's list are Hyundai, Lexus and Toyota, each of which sees 60 percent of its customer base return.
Showing the largest gains from a year ago is Kia, which garnered a 58 percent retention rate this year, up from 37 percent a year ago.
Looking at Ford and Honda in more detail, the Edge, F-Series and Fusion vehicles have been the most pivotal in bolstering Ford's ability to keep customers coming back. The Accord, CR-V and Pilot models, meanwhile, have been the most crucial in lifting Honda's retention rate.
So what are the reasons behind each brand's success?
Of the two groups of customers (Ford and Honda), there is a greater chance that Ford owners will return thanks to vehicle styling and perceived "fun-to-drive" models, according to J.D. Power. Meanwhile, the customers more apt to return for resale-value reasons are those buying Hondas.
Interestingly enough, customers in general are becoming more likely to repurchase from a brand because it has fun-to-drive vehicles, and they are apparently less likely to remain loyal due resale value strength, J.D. Power found.
J.D. Power discovered consumers are seeking out fun to drive vehicles in higher numbers, driving an 8-percent jump in this category.
Conversely, there was a 10-percentage-point drop in the influence of resale value strength.
"Now that economic and market conditions have improved somewhat, vehicle owners are increasingly citing emotional, rather than practical, reasons for staying with their vehicle brand or switching to a different one," explained Raffi Festekjian, J.D. Power's director of automotive product research.
"In light of this, developing new models with attractive styling and that are perceived as fun to drive is increasingly critical for automakers in order to retain and conquest customers as the market continues to recover," Festekjian added.
Across all brands, customer retention came in at 48 percent this year, which was static from a year ago. The study — which consisted of 34 brands — found that 16 of these brands showed year-over-year improvement, while 14 brands saw a decrease and four brands witnessed stability.
In some good news for domestics, Big 3 customers have become a bit more likely to stick with Detroit's brands. Among the customers trading in a domestic model, 69 percent went the domestic route again. Sixty-eight percent did the same last year.
That said, the rate of returns is much higher on the import side.
In fact, nine out of 10 customers trading in an import ride stuck with the import side of the market. J.D. Power said this high level has been fairly prevalent recently.
During 2009 and 2010, domestics have done a better job at wooing customers from import brands than they have at improving retention rates, J.D. Power indicated.
The proportion of Big 3 customers this year that had been import customers before came in at 14 percent. This compares to 10 percent two years ago.
"While import brands still have notably higher customer conquest rates than domestic brands, the gap is beginning to narrow," Festekjian explained.
"In recent years, domestic brands have achieved parity or even surpassed the performance of import brands in initial quality and new-vehicle appeal, and customer perceptions of these nameplates seem to be evolving accordingly," Festekjian continued. "It will be interesting to see how the performance gains by domestic brands affect retention and conquest rates in the coming years."
J.D. Power provided the following data in its 2010 Customer Retention Study regarding the retention rates for 34 brands:
| | |
| --- | --- |
| Make | Retention Rate |
| Ford | 62 percent |
| Honda | 62 percent |
| Hyundai | 60 percent |
| Lexus | 60 percent |
| Toyota | 60 percent |
| Mercedes-Benz | 59 percent |
| Kia | 58 percent |
| Subaru | 57 percent |
| Nissan | 54 percent |
| BMW | 53 percent |
| Chevrolet | 52 percent |
| Industry Average | 48 percent |
| Audi | 46 percent |
| Lincoln | 45 percent |
| Ram | 45 percent |
| Cadillac | 44 percent |
| Acura | 43 percent |
| GMC | 43 percent |
| Land Rover | 41 percent |
| Volkswagen | 41 percent |
| Porsche | 39 percent |
| Mazda | 37 percent |
| Infiniti | 35 percent |
| Mini | 35 percent |
| Jeep | 34 percent |
| Volvo | 32 percent |
| Suzuki | 31 percent |
| Mercury | 28 percent |
| Buick | 27 percent |
| Mitsubishi | 27 percent |
| Scion | 25 percent |
| Chrysler | 24 percent |
| Dodge | 22 percent |
| Jaguar | 16 percent |
| Saab | 4 percent |