Why 3.6M off-lease units in 2017 could be 'problematic'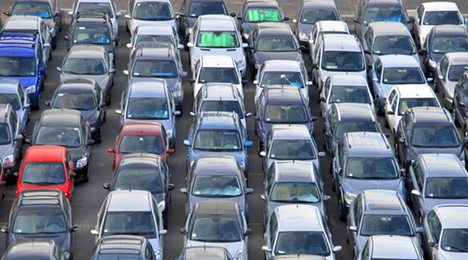 ATLANTA -
Cox Automotive chief economist Tom Webb described September's reading of the Manheim Used Vehicle Value Index, which represented a 1.7-percent lift year-over-year, as "not extremely unusual."
When Webb hosted his quarterly conference call on Monday, he used a potentially troublesome adjective, "problematic," when he touched on a figure that might push wholesale prices and the Manheim Index lower.
To recap, Manheim indicated wholesale used-vehicle prices (on a mix-, mileage-, and seasonally adjusted basis) remained unchanged between August and September, but non-seasonally adjusted prices declined 1 percent during the month. As a result, the Manheim Used Vehicle Value Index stood at 126.9 for September, an increase of 1.7 percent from a year ago.
"It's a little bit better than I expected but not extremely better," Webb said. "When we do the full-year numbers, I think on an annual average basis the index will show a modest increase, i.e. less than 1 percent, whereas we were expecting a decline of less than 1 percent."
At least through the first three quarters of the year, Webb acknowledged the used-vehicle retail market "has been better than expected and that's sort of driving it." Webb cited data from the National Automobile Dealers Association that has used-retail sales coming in 4.5 percent higher, which "is a big change and very positive."
And why are franchised and independent dealers turning more used metal?
"The margins have stabilized," Webb replied.
That assessment prompted participants on Webb's call to wonder if the retail market can continue to sop up the additional wholesale volume that's coming, especially as off-lease activity continues to climb because of how much new-vehicle leasing is being originated by captives and other finance companies.
Webb asserted that the 3.1 million off-lease units expected to come down the lanes this year "is not that big of a deal in the grand scheme of things." But next year's expectation is for off-lease volume to hit 3.6 million units, which he acknowledged "is a much more problematic number.
"And then an excess of 4 million in 2018, the numbers get real big so you would expect some downward pressure (on wholesale prices)," Webb went on to say.
The Cox Automotive expert, who will be on hand for Used Car Week again this year, also mentioned that new-model leasing might be slowing down a bit from the record-setting pace seen in recent quarters. Webb shared his own estimations that new-model leasing volume is about 8 to 9 percent higher year-over-year through the first nine months of 2016. He added that he doesn't expect a year-over-year uptick during Q4 because "we pushed out lots of leases last year."
Webb continued, "The full-year increase is going to be significant but certainly not anything like we saw in previous years. It's starting to level off also.
"The penetration rates start to level off because many of these lessors only have a certain amount of appetite for the amount of residual risk that they want to hold out there," he went on to say. "I think they're pretty well full.
"Certainly to the extent if pricing starts to deteriorate a little bit and you start showing some end-of-term losses, certainly your appetite for creating new leases is significantly less," Webb added.
Editor's note: Watch for upcoming reports from Auto Remarketing and SubPrime Auto Finance News for Webb's assessment of the certified pre-owned market as well as credit availability.