Why TrendPending's AutoBio quickly impressed Illinois VW dealer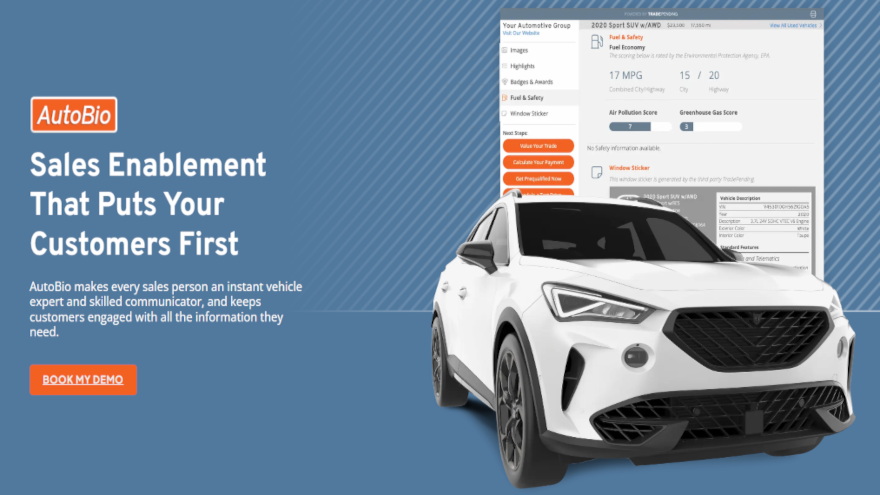 TradePending's newest tool to help dealerships retail more used vehicles quickly impressed Rebecca Balonier, who is internet director at Volkswagen of Elgin in Illinois.
Marrying TradePending's products with data from CARFAX, service history records, window stickers and local market statistics, AutoBio is new a communication platform tied to TradePending's entire data ecosystem and numerous value-add integrations.
"As soon as we saw AutoBio, we got it right away," Balonier said in a news release from TradePending distributed on Wednesday. "We're working hard to get our sales team operating at the highest levels again. AutoBio will be a key part of this process."
TradePending explained that AutoBio can enable dealership employees to tell the full "story" of every vehicle they have for sale, bridging the information and process gaps that challenge ealerships and consumers to do more deals.
"AutoBio builds credibility and trust between the consumer and a dealer," TradePending CEO Brice Englert said. "Both parties see the same information about a consumer's vehicle of interest, resulting in conversations that start from a position of mutual understanding and transparency. The sales and BDC teams then have the tools they need to drive more customer follow-up and showroom visits."
Sales professionals at dealerships can share AutoBio's detailed reports with their customers via text and email, and then be alerted when the consumer engages with that report, helping the dealer understand the right time to re-engage.
"We're not reinventing the sales process, we're just helping it run more smoothly and efficiently," Englert said, who explained that AutoBio differs from other solutions by seamlessly integrating TradePending's additional products into the natural flow of a buyer's shopping experience.
While conducting vehicle research, TradePending said a buyer can easily take the next steps to value their trade-in, to calculate a monthly payment on the vehicle they're researching, or to schedule a test drive.
Balonier said, "What really sets it apart is the inclusion of the other products, so it's easy for our customers to take the next step, or to see really valuable local market data about each vehicle."
AutoBio also integrates with TradePending's Badges product, injecting rich market data about each vehicle into the report. Buyers can easily see popular and rare attributes, as well as how much local supply remains, or how demand is changing over time.
"Most important to us was for TradePending to maintain our position of working with dealers, and not competing against them," Englert said. "We don't market to consumers and don't redirect them to our website. We help dealers build their brand and keep users on their site."
Along with visiting its website at www.tradepending.com, you can learn more about TradePending's products and services through a special sponsored episode of the Auto Remarketing Podcast available below.