Women in Remarketing Dispense Wisdom at Used Car Week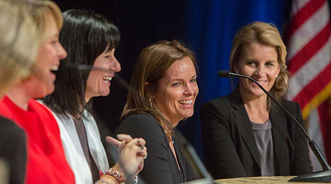 SCOTTSDALE, Ariz. -
This year's class of Women in Remarketing honorees were spotlighted Thursday afternoon at Used Car Week, but these leaders of the used-car business did more than just receive awards.
They doled out advice, talked about career experiences, lessons learned and much more as they reflected on life and years in the remarketing business as part of a panel led by past winner Jennifer Costabile of General Motors.|
One of the questions Costabile asked the Women in Remarketing honorees was about the definition of success. Manheim's Susie Heins said it's about being excited and happy about what you're doing.
ADESA's Michelle Mallon echoed that sentiment, then got some laughter from the audience when she said, "Being that I'm a lawyer, getting people to trust me and that I'm not the bad guy."
In that spirit, Keely Smith of AutoIMS stressed the need to approach everything with a sense of humor, which can not only bring people together but diffuse difficult situations.
She also advised leaders to be mentors, givers and lifelong learners.
Next up, Repo Remarketing's Claudia Plascensia, Hare Chevrolet's Courtney Cole and Wheels Inc.'s Lori Coniglio were asked what inspires them both professionally and personally.
Starting with Plascensia, it's the opportunity to help her employees and corporation succeed; and personally, what inspires her is her family, she said.
As for Cole, she is inspired by the chance to help people believe in themselves and accomplish things they never thought possible. She also got a few laughs mentioning that she's "too darn competitive."
Coniglio said it's her daughter that inspires her. She wants her daughter to know that anything is possible and to "set goals and go for it; don't let anything stand in the way."
Costabile also posed a question about the best piece of wisdom the Women in Remarketing honorees had received.
Allison Lind of Mercedes-Benz USA said she has learned to stop and listen to the other side first before making a decision.
She said that "you might not make everyone happy," but at least you will have considered all vantage points and made a more educated decision.
Ally Financial's Andrea Riley learned this from her grandmother: "Leave this world better than you found it."
Dealers Auto Auction of the SouthWest's Stephanie Gringas said the best advice she ever received was to "know the value of a car." Doing so, she said, has helped her build trust.
Moreover, she noted, "There's nothing that water, sleep or food can't fix."
Lastly, Amy Weisenburger of DataScan Field Services and Mary Jane Hogan of American Recovery Association were asked what advice they would have for women striving to get to the top but facing resistance.
Hogan said it's not about being a woman, necessarily. Be a team player, she said, and listen to others. And it's also about whom you surround yourself with.
"Surround yourself with good people," Weisenburger said.
"Work for good people," she added, "and do business with good people."