Zeigler Auto Group hosts meet-and-greets with NASCAR's Josh Bilicki before Chicago Street Race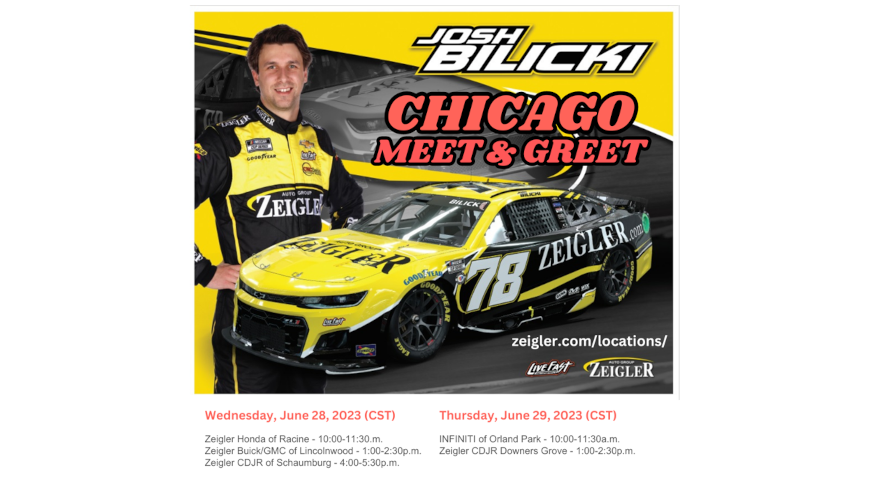 Zeigler Auto Group/Zeigler Racing is hosting a series of meet-and-greet events with Live Fast Motorsports featuring driver Josh Bilicki in the runup to NASCAR's historic Chicago Street Race on Sunday.
Bilicki will be driving the Zeigler.com No. 78 Chevrolet Camaro in the inaugural Grant Park 220. The weekend features a 100-lap race through the streets of Chicago, a celebrity-packed concert and more. The race will be broadcast on NBC and Peacock, beginning at 5:30 p.m.
Zeigler Auto Group announced its partnership with Live Fast Motorsports last fall with a multi-race agreement that includes Chicago and other major races.
"My excitement level for the Chicago Street Race is off the charts," Bilicki said in a news release. "Not only is this the first ever street race for the NASCAR Cup Series, but it's also in Zeigler Auto Group's backyard, so they have a large list of team members attending the race. It will be important for us to have a strong and competitive run."
Bilicki's meet-and-greet tour on Wednesday and Thursday will include five of Zeigler Auto Group's 21 Chicagoland-area dealerships: Zeigler Honda of Racine, Zeigler Buick/GMC of Lincolnwood (featuring a replica of the No.78 Camaro), Zeigler CDJR Schaumburg, INFINITI of Orland Park and Zeigler CDJR of Downers Grove.
Zeigler Auto Group, which includes 35 dealerships throughout the Midwest, has served 15 million customers since opening its doors in 1975.
Bilicki will be at each dealership signing hero cards and other giveaways, with photo ops available for the media and public.
"Introducing our sport to a new audience has shown success in the past at races such as the L.A. Coliseum," Bilicki said, "and I applaud NASCAR and its team members for making this happen.
"The track itself is going to be extremely challenging, with tight turns and a very bumpy surface, but all of us drivers and teams are in the same boat, so it's going to be about who figures out the best setup for their car and who feels the most comfortable on the track quickly."