Zeigler Auto Group to sponsor NASCAR team in 2023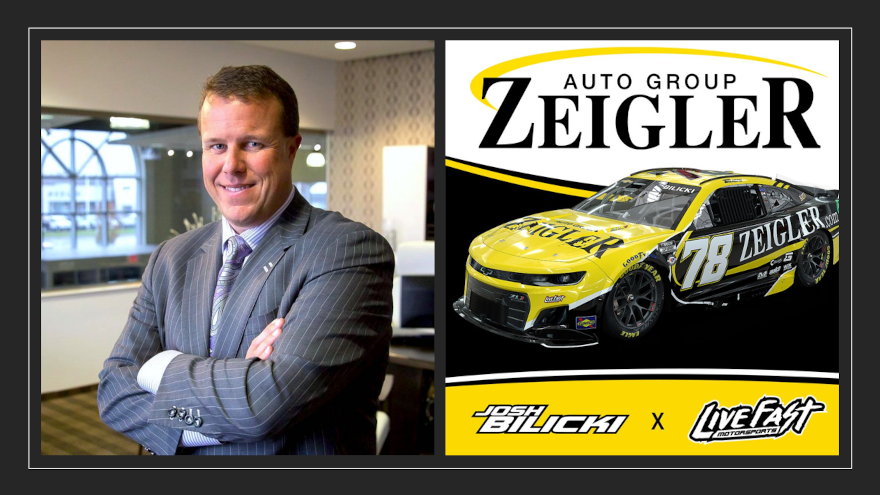 Another example of the racing and retailing worlds connecting surfaced on Monday.
Zeigler Auto Group will serve as primary sponsor onboard Josh Bilicki's new No. 78 Chevrolet Camaro for Live Fast Motorsports during the 2023 NASCAR Cup Series Season.
As the youngest team in NASCAR according to a news release, Live Fast Motorsports welcomes Bilicki and Zeigler Auto Group in a new partnership. The Zeigler.com Chevy Camaro will make its official debut at Circuit of the Americas on March 26.
"We had a great season last year with Josh, and we are excited to partner with Live Fast Motorsports for 2023. Having our new team onboard gives us a fresh start on the track with owners that are focused on performing among the best at each race," Zeigler Auto Group president and owner Aaron Zeigler said in the news release.
With Midwestern roots across Michigan, Indiana and Wisconsin as well as in Chicago, Zeigler Auto Group aligned with Bilicki — a Wisconsin-based driver — and Ohio native Matt Tifft, who is part owner of Live Fast Motorsports with BJ McLeod.
McLeod looks forward to working with Bilicki again, as Bilicki formerly raced with McLeod's NASCAR Xfinity Series team.
Looking forward to 2023, Bilicki will pilot the Zeigler-sponsored No. 78 Camaro at multiple races. A major highlight will be racing at the inaugural NASCAR Cup Series Race at the Chicago Street Course during Fourth of July weekend.
Other notable stops for the team will be the FireKeepers Casino 400 at the Michigan International Speedway on Aug. 6 and the Verizon 200 at the historic Indianapolis Motor Speedway the following weekend.
Last year, Bilicki drove the Zeigler.com-sponsored Chevrolet, earning a top 10 finish at Daytona and scoring a top 20 finish at Atlanta Motor Speedway. Other highlights for Bilicki include a top 10 finish at the 2021 Coke Zero Sugar 400 at Daytona, 72 starts in the NASCAR Xfinity Series and nine in the NASCAR Craftsman Truck Series.
Bilicki is currently the only driver from Wisconsin competing in the NASCAR Cup Series.
"I am so happy to have the opportunity to join Live Fast Motorsports for the 2023 season and to once again represent the Zeigler Auto Group. The Zeigler team has become like family to me and I have driven for BJ McLeod in the past in the NASCAR Xfinity Series, so this felt like a very natural fit for all parties. I'm excited and thankful for the opportunity and can't wait to get to work," Bilicki said.