Auction news roundup: Exeter's annual awards & training info from NAAA, Auction Academy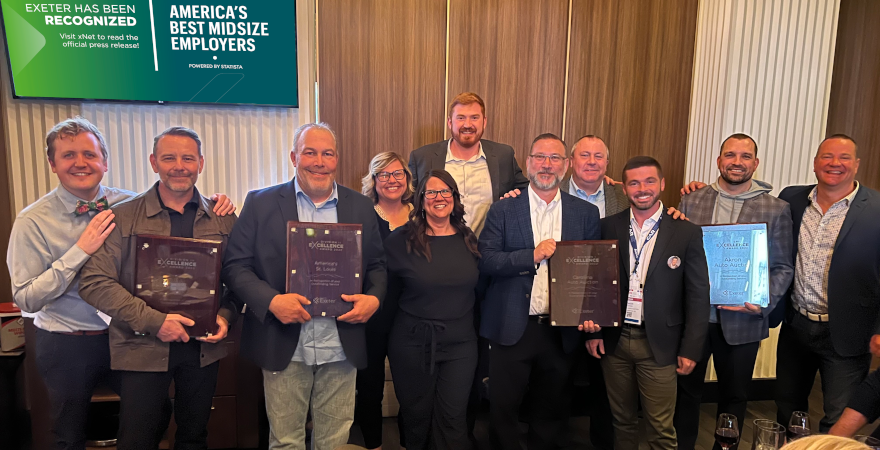 Exeter Finance announced its Auction eXcellence Award winners at the recent CAR Conference, spotlighting top auctions across four categories.
The honorees were as follows:
Division 1 winner: Carolina Auto Auction
Division 2 winner: America's Auto Auction St. Louis
Division 3 winner: DAA Seattle
Exeter Most Improved: Akron Auto Auction
"We realize that every car that runs through the auction process requires hands-on experience to ensure these assets are handled at the most efficient levels," said Brent Huisman, senior vice president of remarketing and repossession at Exeter.
"The winners of this year's awards are true leaders in the remarketing industry and have a reputation of building great teams and excellent customer service," Huisman said. "Congratulations to all the winners!"
DAA Seattle general manager Dave Blake said in a news release: "We are grateful for our relationship with Exeter Finance and honored to receive the 2022 eXcellence award. What is most impressive about their award program is how they involve their entire team when choosing the recipients.
"DAA is extremely intentional about creating a culture of service. This award can be attributed to the dedication and relationships formed by all stakeholders contributing to the performance of Exeter Finance," Blake said.
NAAA's Industry Standard Training on CRs
On the association level, the National Auto Auction Association will hold an Industry Standard Training session on condition report certification May 23-24 at Manheim Nevada, located in Las Vegas.
The two days of training include these topics, as listed by NAAA:
Disclosures and announcements for seller and buyer as it relates to the condition report
Imaging and best practices
Different types of damage
Interior and exterior components
Structural damage
Flood damage
Vehicle grading
All structural components of a vehicle by NAA and more.
Those interested in participating can register here: https://www.education.conditionreports.com/reserve-course
Elsewhere, NAAA sent a message in its newsletter regarding disaster relief, given the recent tornadoes in the Midwest and South.
"When severe weather hits, we want to reassure those who have been affected that NAAA is here for you," the association said. "The Mike Browning Disaster Relief Fund, part of the NAAA Warren Young Senior Scholastic Foundation, provides financial assistance for our member auction team members who have been displaced or significantly impacted by natural disasters.
"As we continue to move through the active severe weather pattern this spring, please do not hesitate to contact NAAA headquarters by calling (301) 696-0400 or by emailing naaa@naaa.com with any requests for support that you may need following a severe weather event," it added.
Donations to the Mike Browning Disaster Relief Fund can be made here:
https://naaa.eventsair.com/naaa-disaster-relief/disaster/Site/Register
Auction Academy heads to Detroit
Next up, Auction Academy will continue its Class Group 7 curriculum next month in Detroit.
The May 22-24 session will include visits to Manheim Detroit and the Ford Rouge Factory, along with sessions led by:
Mark Phillips,  Auction Edge
Dave Sutton, Montway Auto Trasnport
Dan Kennedy, Jack Cooper Logistics
Doug Holland, Direct Auction Services
Tonya Price, FastLane Auto Exchange
Dave Ibarra, eLeaderTech, Inc.
As reported previously, Auction Academy has opened registration for its Class Group 8.
The eight-session program launches in August in Nashville, Tenn., and will have quarterly meetings. The group will host its second quarterly meeting at Used Car Week, which runs Nov. 6-9 in Scottsdale, Ariz.
"We are already adding students to the roster and expect to fill our eighth Class Group quickly," Auction Academy president Penny Wanna said in a news release.  "Positive reviews by previous graduates and the companies they work for have generated great interest and excitement for the upcoming Class Group."
More information is available here: https://www.auctionacademy.net/