Carvana-backed vehicle home delivery bill signed into law in Illinois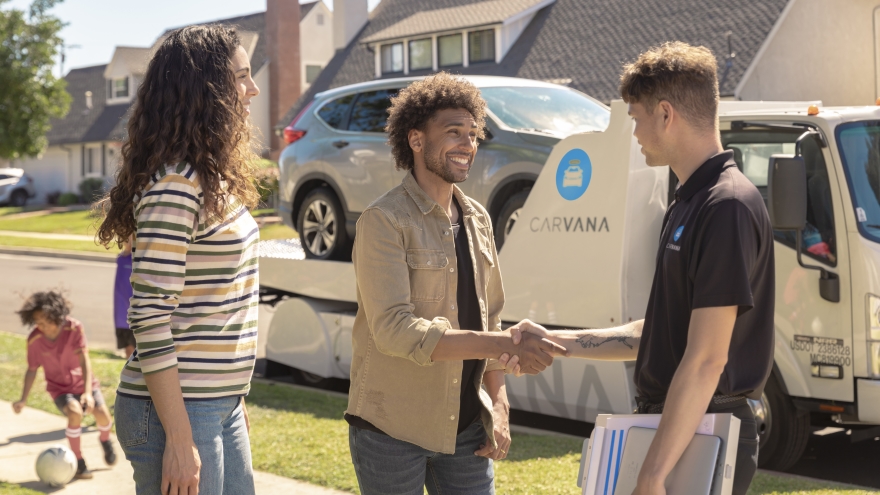 A central part of Carvana's business model will soon be officially legal in Illinois.
This week, Gov. J.B. Pritzker signed legislation that clarifies the state's law governing auto sales by specifically allowing electronic signatures during the sale and home delivery of vehicles to buyers.
The bill, backed by a Carvana-led coalition and introduced by State Sen. Patrick Joyce, passed the Illinois Senate and House unanimously earlier this year. It takes effect Jan. 1, 2024.
The current law, which is more than 50 years old, does not account for online purchases or home deliveries, leaving the legality of those issues unclear. Carvana said it has delivered more than 30,000 vehicles to Illinois customers' homes since it began operating in the state in 2014.
"One of the ways we raise the bar for our customers is offering home delivery, and we are proud to work alongside Illinois customers and lawmakers to ensure consumers in the state are able to take advantage of this convenient service," Carvana government relations manager Will Dammann said in a news release.
"We thank the thousands of Illinois customers who voiced their support for modernizing existing laws and commend Illinois legislators and the governor for taking action on behalf of local consumers."
The online used car retailer said its campaign for the new legislation was supported by more than 15,000 Illinois customers and included a website — DeliverMyCarHome.com — to give consumers a way to contact their elected officials.
Carvana expands same-day delivery to Charlotte
Less than a month after introducing a same-day delivery service in Arizona, Carvana is bringing it to North Carolina.
The online retailer said it is now offering to deliver vehicles on the same day they're ordered to select customers in the Charlotte area.
"When we launched vehicle delivery in Charlotte almost 10 years ago, it was only the third market Carvana served," Carvana senior director of finance Matt Dundas said in a seperate release. "Nearly a decade later, as the nation's second-largest used auto dealer, we continue to strive for an even better online car-buying and selling experience.
"Bringing same-day delivery to the greater Charlotte area feels like a full circle moment for Carvana as we raise the bar for local customers, including dozens in the area who have already gotten to enjoy the ease and convenience of same-day speed."
Since it announced the service's launch in Arizona on Aug. 3, Carvana has brought same-day delivery options to Indiana and North Carolina, and plans to continue adding additional markets.