CATA brings back Chicago Drives Electric to raise awareness, enthusiasm for EVs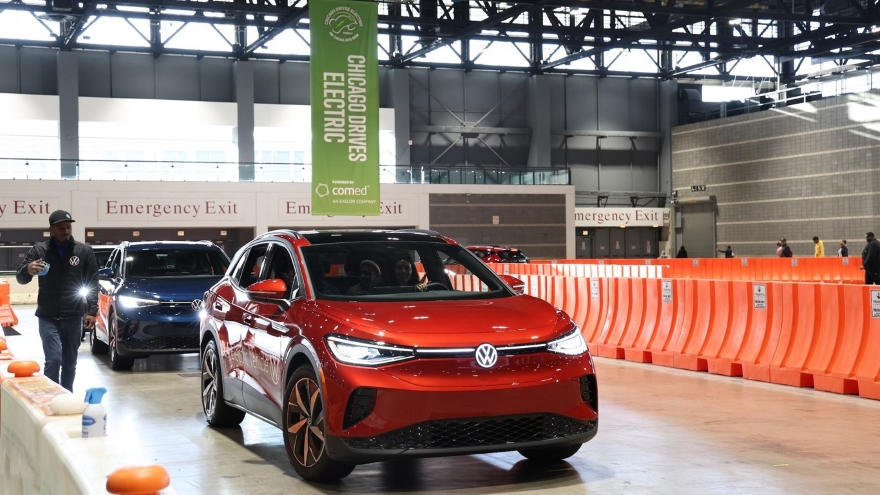 As demand for electric vehicles slows while inventory rises, the Chicago Automobile Trade Association is bringing back an event to give consumers a chance to experience an EV for themselves.
The Chicago area's new-car dealer association and producer of the Chicago Auto Show announced the return of Chicago Drives Electric, an event that seeks to raise awareness on a local level of the many benefits of all-electric, hybrid and plug-in hybrid vehicles, and help consumers understand how EVs can fit individual needs and lifestyles.
The event will be held Sept. 29-Oct. 1, in conjunction with National Drive Electric week.
Last year's inaugural Chicago Drives Electric provided nearly 3,000 in-vehicle experiences for interested consumers, and CATA aims to draw more attendees in 2023 to experience a wider portfolio of brands and models.
"Chicago Drives Electric is a unique experiential event that allows the public to get behind the wheel of the latest electrified vehicles back-to-back," Chicago Auto Show chairman JC Phelan said.
Registrants will have the opportunity to test drive and experience a variety of brands, ranging from luxury to mainstream.
Among this represented will be Alfa Romeo, Audi, Cadillac, Chrysler, Ford, Hyundai, Jeep, Kia, Nissan, Toyota, Volkswagen and Volvo, featuring models such as the Audi RS e-tron GT, Cadillac LYRIQ, Ford Mustang Mach-E, Hyundai IONIQ 6, Nissan ARIYA, Toyota Prius Prime and Volvo C40 Recharge, among others.
Automakers will have product specialists on hand throughout the event to answer consumers' questions and help demonstrate the features and benefits of their vehicles.
The event will also include a experts from Cars.com, CHARGE Enterprises, ComEd, Drive Chicago and Powering Chicago to help break down the various aspects of EV ownership and tackle complex topics such as range anxiety, charging options and infrastructure, tax credits and incentives, and where consumers can begin their search for an EV.
"The EV market continues to be in a rapid growth pattern," CATA chairwoman Kelly Webb Roberts said. "As the public navigates this next generation of driving, we want our communities to know that the Chicagoland new-car dealers are here to be partners in that journey.
"After more than a century of driving internal combustion engine vehicles, consumers are destined to have questions on the expeditious push to EVs, and Chicagoland's new-car dealers are crucial in providing those resources and much-needed education."
Registrations are limited and are available at ChicagoAutoShow.com on a first-come, first-served basis. Once all time slots have filled, a waitlist will open for those wishing to attend.
"Space is limited to ensure a quality experience for all involved," Phelan said. "When spaces for the fall event fill up, we'll encourage people to visit the 2024 Chicago Auto Show's Chicago Drives Electric EV test track inside McCormick Place, which will provide ample opportunities for interested parties to learn about and experience the latest EVs."
Phelan said the Chicago Drives Electric hub at the 2023 Chicago Auto Show delivered more than 155,000 in-vehicle experiences in five vehicle brands with a wide range of EVs to test drive, which he called "a testament to the continued momentum behind Chicago Drives Electric as auto manufacturers debut the latest models and new technology."
Del Grande group named a Bay Area top workplace for 13th straight year
Del Grande Dealer Group, operator of 19 dealerships in Northern California, was selected as one of 2023's Top Ten Workplaces in the Bay Area, according to a recent employee survey conducted by the San Francisco Chronicle and research firm Energage.
DGDG CEO Jeremy Beaver said it was the 13th consecutive year DGDG placed in the survey's top 10 — this year it placed seventh in the large company category.
Winners were chosen based on the results of the survey, which measured aspects of workplace culture such as appreciation, company values, leadership, execution, innovation and communication.
"As a direct result of our team's hard work and dedication, we have achieved remarkable milestones this year," Beaver said. "We have confirmed 100 internal promotions, achieved our highest-ever team member satisfaction rate of 81 percent and reduced our attrition rate to its lowest rate ever at 34 percent."
DGDG said its commitment to its team members' personal and professional growth is illustrated by the introduction of new training platforms such as the DGDG Leadership Academy, designed to educate and cultivate future leaders within the organization. And the group's growth, including the addition of Audi Modesto in 2022, provides increased opportunities for promotions and career development.
"The companies and competition get tougher each year, making receiving this award even more meaningful," Beaver said.