Dealer news: Plaza Auto Mall school supply giveaways reach 1,650 students in 2023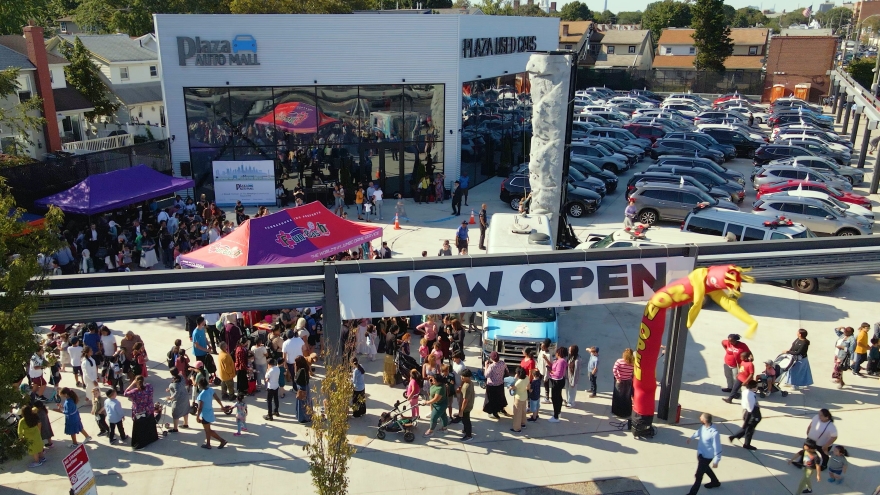 Brooklyn N.Y., dealer group Plaza Auto Mall surpassed a milestone last week during its annual Backpack Giveaway and Fun Bash.
During the event, held Aug. 31 at the dealership's location on Nostrand Ave., the Plaza Auto Mall team distributed more than 650 backpacks filled with essential school supplies to support local families in need.
That raised the dealer group's total to more than 1,650 backpacks given away among its various events in 2023, which included the Youth Summerfest last month at Brooklyn's Prospect Park Zoo.
"The importance of education cannot be overstated," Plaza Auto Mall general manager Adam Rosatti said. "That's why we're committed to helping equip students for success."
Rosatti said Plaza Auto Mall, which operates five franchises, partnered on the events with government officials and entities including the New York City Mayor's Community Affairs Team, Council Member Farah Louis, state Sen. Roxanne Persaud, state Assembly Member Rodneyse Bichotte-Hermelyn and Council Member Inna Vernikov.
Organizations such as the Jewish Community Council of Marine Park, Council of Jewish Organizations, Council of Peoples Organization and NYPD Community Affairs Unit also contributed.
Healey Brothers earns Community's Choice Award
Healey Brothers, which operates nine dealership locations in New York's Hudson Valley, was named the winner of the 2023 Community's Choice Award for Best Pre-Owned Dealer.
The Community's Choice Awards are presented by Gannett's USA Today network of newspapers and news websites to celebrate the best businesses and organizations in 120 regions across the nation.
Local communities nominate and vote for their favorites in 20 categories, highlighting everything from trendy hotspots to established, well-regarded community businesses.
"Healey Brothers is deeply appreciative and gratified by the supreme level of respect and trust that the Hudson Valley places in our dealerships," Healey Brothers executive general manager John Koerner said.
"Members of our communities confidently know they will receive a warm, pre-eminent customer-service experience as well as a premier vehicle providing superb value."
Sun Auto adds five new locations in Houston
Sun Auto announced it is adding five new locations to its growing portfolio in the Houston area — and it's going to celebrate by giving away a 2023 Ford Bronco Sport.
The additions will give the tire retail and auto service brand a total of 17 Houston-area stores. Two of the five new stores – in Richmond and Tomball – are already open, with the other three, in Katy, Spring and Missouri City, expected to open by the end of the year.
Texas residents can register to win the Bronco at any Sun Auto Tire & Service location, with no purchase required. He drawing will be held in January. For a full list of entry rules and regulations, and a list of store locations where the vehicle will be on display, visit sunautoservice.com/bronco.
"Sun Auto Tire & Service is committed to providing the best tire and auto service experience for Houston's residents," Sun Auto senior director operational excellence Bob Ford said "This market expansion is just one way we are demonstrating this dedication, and our Bronco Sport giveaway is our way of showing our appreciation."