FrogData deploys WarrantyMind AI to optimize cash flow for dealerships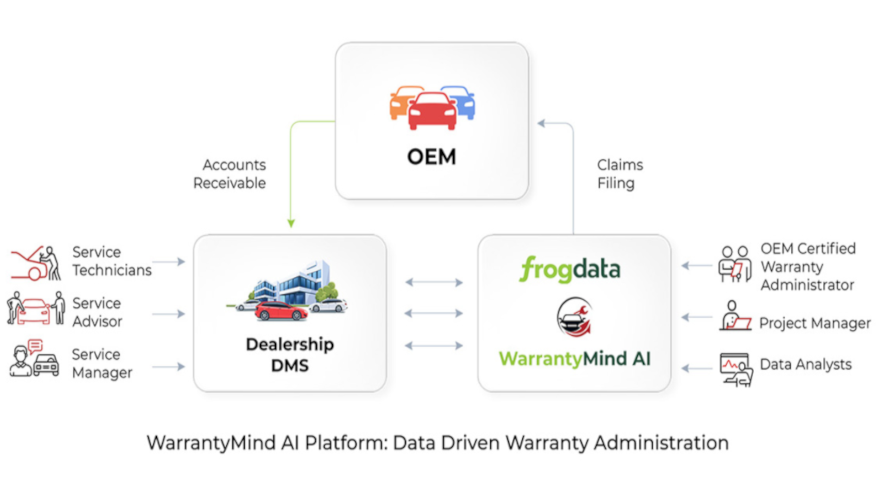 FrogData rolled out its second new tool of the summer to help dealerships navigate through warranty claims.
On Tuesday, the provider of artificial intelligence and decision analytics solutions for the automotive industry launched WarrantyMind AI, an end-to-end remote warranty administration service designed to optimize the warranty claims process for dealerships.
As consumer demand rises for extended and electric vehicle warranties, FrogData pointed out that properly filing claims is essential for cash flow.
The company said WarrantyMind AI can ensure dealerships maximize this vital revenue stream.
At the core of WarrantyMind AI is FrogData's AI platform that can analyze every repair order to extract key data points. This allows the remote staff to understand repair details, identify missing information, and determine the optimal claims submission approach.
The AI tools also can automatically flag high-risk claims that require priority handling to avoid delays or rejections.
By combining seasoned warranty experts with AI-driven insights and automation, FrogData said, WarrantyMind AI can deliver increased accuracy, faster completion times, and higher approval rates for dealership warranty claims.
The remote staff can act as an extension of the dealership team with FrogData's integrated communications platform.
FrogData went on to mention WarrantyMind AI also can provide dealerships with ongoing analytics and recommendations to continuously improve the warranty process. Dealers can identify technicians needing more training on repair documentation or claims trends that may require negotiations with OEMs.
"These insights help dealerships maximize future warranty revenue and margin opportunities," FrogData said in a news release.
"Expert staff add an additional layer of quality assurance, leveraging their experience to ensure accuracy and completeness. Decision analytics also provide data-driven insights to continuously improve warranty operations," the company continued.
FrogData noted other key benefits including:
—Increased claim approval rates and faster payment timelines to optimize cash flow.
—Reduced administrative costs through streamlined, automated processing.
—Detailed analytics revealing opportunities to maximize future warranty profitability.
"WarrantyMind AI utilizes cutting-edge AI and advanced data analytics to revolutionize warranty management," FrogData CEO Tej Soni said in a news release. "Our intelligent automation streamlines the claims process while providing dealerships with data-driven insights to continuously improve. This powerful combination of technology optimizes both the speed and quality of warranty revenue."
FrogData currently serves hundreds of dealership clients with its data analytics and AI platform.
In June, FrogData unveiled WarrantyBoost+, what the company called a "groundbreaking" annual-subscription product that can combine warranty rate enhancement with an intuitive service dashboard and key performance indicator (KPI) tracking.
For more information, visit www.frogdata.com.