Why Cox Automotive streamlined its brand portfolio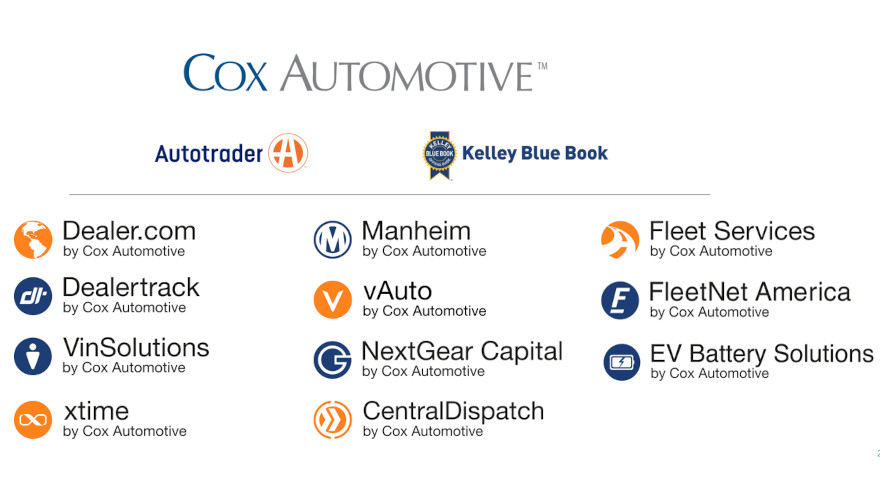 Cox Automotive formed in 2014 as the umbrella entity for the automotive properties of Cox Enterprises, and since then, has expanded to include more than 60 entities.
The company is now streamlining that portfolio to just 13 brands, Cox confirmed to Auto Remarketing.
Cox Automotive's two consumer-facing brands, Autotrader and Kelley Blue Book, remain as-is. The other 11 entities will have a "by Cox Automotive" tag attached to the respective brand names.
Those include:
Dealer.com by Cox Automotive
Dealertrack by Cox Automotive
VinSolutions by Cox Automotive
xtime by Cox Automotive
Manheim by Cox Automotive
vAuto by Cox Automotive
NextGear Capital by Cox Automotive
Central Dispatch by Cox Automotive
Fleet Services by Cox Automotive
FleetNet America by Cox Automotive
EV Battery Solutions by Cox Automotive
The rebranding went live with the company's digital channels on Nov. 1, and the rollout will be a "rolling evolution" leading up to the NADA Show in February, said Cox Automotive head of enterprise marketing Kristen Givens, who led this project.
At NADA, there will be an in-person unveiling of the new branding strategy.
"We relied heavily on research," Givens told Auto Remarketing when asked about the decision behind the standalone brands. "So, one, we did a ton of customer research, just to better understand customer expectations holistically and consistently.
"We've heard we want end-to-end solutions, we want fewer sales reps, we want a better, more simplified way to do business with you," Givens said. "We've already done a ton of work organizationally to elevate that customer experience, and the branding piece was the next step in the journey.
"But really what guided our decisioning here was brand equity and how our customers perceived these brands in market. All of these are top in their category and it helped us really elevate the right brands," she said. "And then below each one of these you have products and capabilities that still exist."
Those brands would just be going to market under one of the umbrella brands. For Cox Automotive, it's not so much as taking brands away, but rather simplifying how the company communicates to the market.
"Have you noticed the most powerful brands keep things simple? Think Google, Apple, Uber, Coca-Cola — all are easy to recognize, familiar and concentrated in one powerful identity," Cox Automotive chief marketing officer Ken Kraft said in an upcoming online post.
"That same strategy is what guided the team at Cox Automotive in developing our evolved brand portfolio, recently introduced on priority websites and soon to be front and center at NADA in February," Kraft said.
He goes on to acknowledge that navigating the 60-plus entities that existed within Cox Automotive "could be challenging."
"It was time to evolve our brand architecture to better reflect Cox Automotive's unmatched connected suite of products and to provide customers with what they've been asking for — end-to-end solutions from one provider," Kraft said.
The logos and color schemes of the now 13 brands are also consistent, with each either blue or orange and in a circular format and retaining some elements of their initial branding.
"Our brand evolution is bigger than new logos —– it's about our transformation to One Cox Automotive in all facets of our business and allowing us to be the place 'where it all connects' for our customers, clients and partners," Kraft said. "And we're not done yet. As the world's largest automotive services and technology provider, Cox Automotive is committed to evolving over time, making necessary adjustments and thoughtfully incorporating any new brands, products or capabilities in the future."
In terms of internal terminology, the structure will not change, Givens said.
"I'd say internally, we're still structured the same way. Nothing structurally is changing internally.  It's more about elevating these brands as we go to market," she said.
For instance, "someone who works for Inventory Solutions today still does so. (But) the brands that show up as a part of that portfolio are Manheim, vAuto, NextGear and Central Dispatch."
Cox Automotive's brand unification comes less than a month after it was announced that CARS — which includes the Cars.com, Dealer Inspire, FUEL, DealerRater, CreditIQ and Accu-Trade.com properties — was rebranding its commercial enterprise to "Cars Commerce," to unite its various commercial brands.
The new Cars Commerce brand includes a "streamlined and interconnected portfolio" organized into four areas:
— Marketplace (Cars.com)
— Digital Experience  (Dealer Inspire)
— Trade & Appraisal (Accu-Trade)
— Media (the Cars Commerce Media Network unifies such products as Cars Social, FUEL IMV and the company's national advertising solutions)
Elsewhere, KAR Global announced in May it was rebranding as OPENLANE, a move that became effective May 15.
OPENLANE, which had been part of KAR's digital offerings for over a decade, is now both the name of the parent company and the go-to-market brand for its digital marketplaces throughout the U.S., Canada and Europe.
Asked what is driving the "one-brand" go-to-market strategy in automotive, Givens said, "It's responding to what customers are asking for, which is: show up in a simple way that makes it easy for me to navigate your offerings. We've heard the same thing from customers. They want to better understand what we offer and be able to navigate it very easily.
"We looked at out-of-category examples and in-category to really help guide how we wanted to architect everything. And one, we wanted to elevate Cox Automotive, but then these brands are so strong in market that we thought we could retain these and better articulate and clearly articulate what we offer, and how we connect our customers to these offerings."